This is an archived article and the information in the article may be outdated. Please look at the time stamp on the story to see when it was last updated.
by Tamara McCullough, Newscastic
Whether you're an occasional fish eater or a hardcore fish junkie, the right fish can make all the difference. Even more importantly is the right cooking technique.
That's why Chef Hank at Sea Breeze Fish Market & Grill hosts a bi-monthly fish cooking class to not only teach the art of cooking the perfect fish but to inspire patrons to try their hand at chef-level cooking at home. During the class, Chef Hank made a mouth-watering 4-course meal.
In case you weren't lucky enough to attend the class, here are a few highlights that will have you anxious to sign up for next fun-filled class.
Partly by default and partly by passion, Chef Hank explained why he loves hosting the cooking class.
Grits About to Hit the Pot
Class started with a southern favorite: shrimp and grits.
Chef Hank finds it to be super-duper easy for diners to emulate and it has a great taste that almost everyone loves. Since he's a proficient and prolific grit cooker, Chef Hank has lots of time to think about grits, so he has it down to a science from which type to use, to the right consistency and so on. Chef suggests stone brown grits since they aren't gluey and result in a nice, creamy texture.
The right shrimp makes the dish, too, so Chef likes using a substantive type of shrimp, such as gulf shrimp. Not only are they large, but they are tastier, according to Chef. He also has the perfect technique for deveining those shrimp for his fabulous shrimp and grits, which you can see above.
Shrimp and Grits
This classic, simple dish got the class started on a good and tasty foot.
Aww, Shucks, Here Comes the Trout and Corn Salsa
Next on the menu was crusted trout with a fresh corn salsa. Chef Hank explained how excellent trout is for crusting since it is super-thin and cooks very evenly and well. When crusting, Chef promotes the "February" method: Flour, Eggs, and Batter. He showed the art of tossing the ingredients and one diner got up-close-and-personal with the mixture, as you can see.
With his corn salsa, Chef Hank doesn't like to shuck the corn first. He leaves it in the husk to get a better color and to protect the corn kernels, so they will stay intact while grilling for a richer taste.
Crusted Trout with Corn Salsa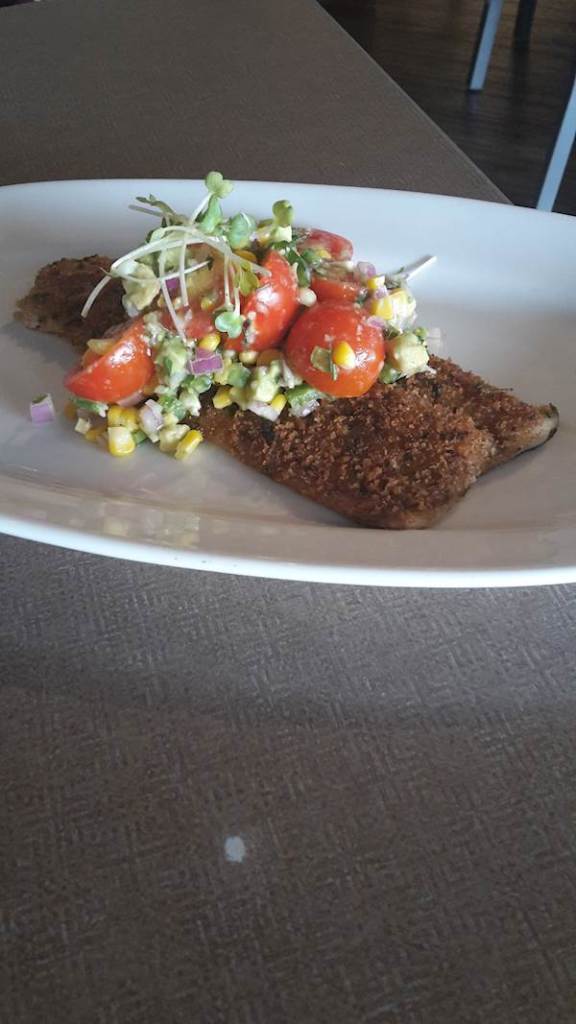 Diners gave the dish a thumbs up and round of applause after they cleaned their plates just like mom always said to do.
Swordfish Southern Style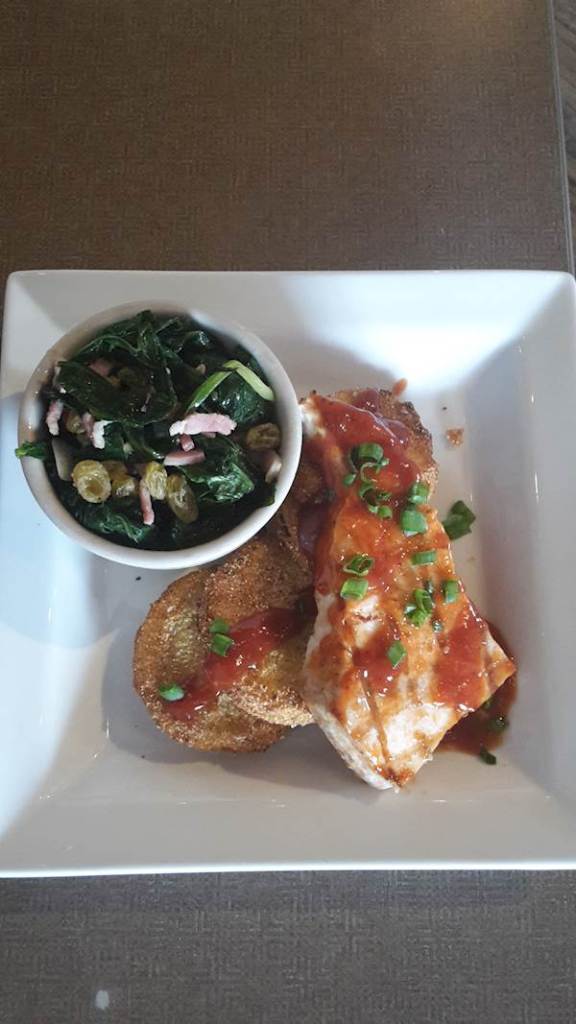 Some chefs may not agree that BBQ sauce belongs on fish, but Chef Hank emphatically disagrees and dove into cooking his swordfish drizzled with BBQ sauce, fried green tomatoes and fresh mustard greens and bacon. Chef promotes the swordfish that Sea Breeze serves since it's from South America and has a great flavor and texture. He warned that  swordfish comes with a gross red line that's unpalatable and should be removed beforehand.
When it comes to greens, Chef prefers mustard greens since they are spicier. He suggests blanching them to bring out their color and avoid that pungent "greeny" smell that can arise from other cooking methods.
While Chef admits this dish wasn't a fave of the previous class, he decided to try it again much to the satisfaction of the current class who ate it up (literally.)
No Fish for Dessert
Since Chef Hank has not been able to successfully incorporate fish into a dessert, he decided to go with another favorite: bread pudding. To avoid that dry bread pudding that so many loved ones serve up, Chef Hank suggests not letting the pudding rest, but instead putting it in the fridge for a couple of hours to keep it moist.
Using a mixture of honey, bourbon, cinnamon and nutmeg, the flavors mingled in the air for an aromatic symphony of smells. This time around, Chef decided not to make his own version of ice cream since he's done it for the past few classes and went to for the house-version vanilla.
Yes, diners gobbled up the bread pudding and ice cream, in case you were wondering.
Happy People
After class, this pic perfectly summed up how diners felt about the class, food and the overall experience.
...And More Happy People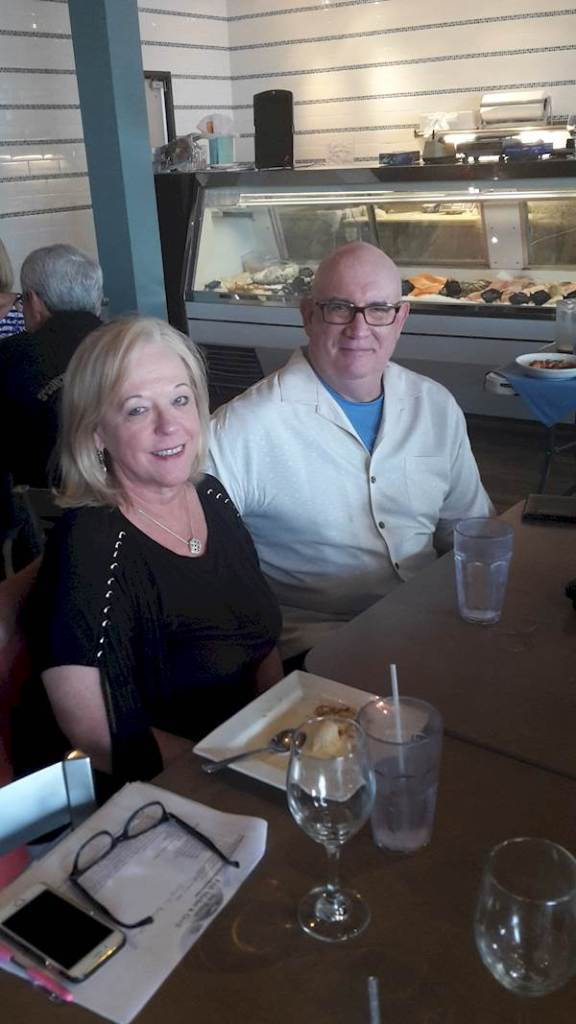 The sentiment was unanimous where everyone enjoyed the class.
The favorites were the shrimp and grits and the bread pudding.
Mashed Potatoes Not as Easy as They Seem
After class, Chef Hank explained how mashed potatoes are his fave dish to fix, but it's not as easy as it seems. Plus, he dishes on his favorite fish dish.
The Big Question: Does Chef Hank Like to Fish?
Yes, yes, he does. However, he doesn't have time to catch fish since he's always cooking them up instead.
If you're interested in learning more or attending a class, go to http://www.seabreezefish.com/ or call 972-473-2722. There's a different theme every month, so your taste buds will never get tired.