This is an archived article and the information in the article may be outdated. Please look at the time stamp on the story to see when it was last updated.
Twitter is back at it again with yet another random hilarious hashtag. This time, we present to you — #YouMightBeTheSidePieceIf…
#YouMightBeTheSidePieceIf they only come around to dip their biscuit.

— Church's Chicken (@ChurchsChicken) May 27, 2016
Bahaha… Church's Chicken kicks off the shade. Now, for all you clueless lovebirds, 10 other ways to know if you're living in La La Land as the side piece.
1) If you're really this stupid…
#YouMightBeTheSidePieceIf you have no idea what a side piece is.

— H. James Lucas (@EphemeralJames) May 27, 2016
2) If you feel like THIS…
#YouMightBeTheSidePieceIf he keeps you in a magic lamp until he needs you. pic.twitter.com/CvrO4E0aLJ

— Aly Sebastian Author (@intuitivealy) May 27, 2016
3) Your Valentine's Day is February 15th
#YouMightBeTheSidePieceIf you celebrate holidays together always on the day before or after the actual holiday.

— K. (@kittykaresless) May 27, 2016
4) He's always calling "Jake from State Farm" at 3 a.m.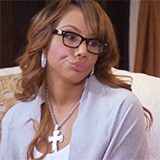 5) But your name isn't even saved in his phone
https://twitter.com/Hublife/status/736193008006111232
6) It's not official unless it's on social media, boo
#YouMightBeTheSidePieceIf pic.twitter.com/Tb4o9pGxZf

— RALPH RUCKUS (@iAmRalphRuckus) May 27, 2016
#YouMightBeTheSidePieceIf he never puts you on his social media and says "I don't like everyone in my business." As he posts every minute😭😭

— Nicole (@ItsnicoleOMG) May 27, 2016
7) You've never been on a real date
#YouMightBeTheSidePieceIf he takes you to Chipotle and not Moe's.

— Moe's Southwest Grill (@Moes_HQ) May 27, 2016
8) Then bae has the nerve to ask you this…
#YouMightBeTheSidePieceIf If he requests you wear no lipstick or perfume. pic.twitter.com/p8ENiut0x6

— Atomique Kitten. (@Bella_Famke) May 27, 2016
9) You've never been disgusted by their morning breath
#YouMightBeTheSidePieceIf she always leaves by midnight

— Bess Marvin (@bess_mar) May 27, 2016
#YouMightBeTheSidePieceIf his house is always under construction and you have to go to a hotel to hook up

— Raoul (@raoulaguilar) May 27, 2016
10) Still confused? Well, refer to Exhibit A
https://twitter.com/pipe7998/status/736215665707749377
Ok, now that it's confirmed you're getting played, DO NOT try this at home.