This is an archived article and the information in the article may be outdated. Please look at the time stamp on the story to see when it was last updated.
By Kristi Rowe, NewsCastic
Whether you need a magnificent gown for an Oscar party, the Prom, or a charity gala, there are plenty of shops around DFW to help you find one. If on-trend is important but one-of-a-kind isn't, go straight to the department store that's known for dressing women to the nines.
Do you need something unique or maybe you disagree with "less is more"? If so, then head down Preston Road near 635, where you'll find several specialty shops which surely include one that fits your shopping style and budget. Speaking of budget, an outlet mall store in Grapevine is another great option, or you can pay a visit to a great vintage store for that special find.
If you're nearer to the North Stemmons, you'll like a unique boutique in Carrollton. And of course, a custom design is not out of the question – this is Dallas, after all. Whatever you do, don't forget the bling – pick up some fabulous jewelry along with your gown, or make another stop for more beautiful things. Check out our suggestions to see where DFW prom girls, pageant queens, socialites, and celebrities find the dresses of their dreams.
The "Old Faithful" of Social Dresses
Dillard's (14 DFW Area Locations)
Wait, what? Dillards? Yes, absolutely. This old school department store has been the home of girl meets gown matchmaking for decades and not just for the older set. While you're not likely to find a one-of-a-kind, you might just find that their combination of style, selection and the price is tough to beat. Most Dillard's locations have large dress departments and small designer boutique sections, and some even have entire social occasion collections for juniors, misses, and plus sizes too.
Trendy styles arrive almost as quickly as they do in pricier boutiques and they get marked down even faster. You might break into a happy dance when you see how small the number is on that little pink tag. Head to one of the really large stores (Northeast Mall, The Parks Arlington) for generously stocked sale racks, or if you're looking for designer labels instead of bargains, make your way to one of the affluent neighborhood malls like NorthPark or Willow Bend.
What you'll see at Dillard's and at the Oscars: Cutouts, nude mesh or illusion panels and other skin-baring styles
A Showroom of Showstoppers
Whatchamacallit
14999 Preston Rd, Dallas
If you're ready to start down the Preston Road formal wear circuit, you'll want to make a stop at Whatchamacallit. It's like a warehouse of wonderful dresses with something for every style and size. With friendly sales people, ample dressing room space, mirrored stages and seating areas, and a red carpet walkway through the store, your only worry will be how to narrow down your choices.
What you'll see at Whatchamacallit's and at the Oscars: Mermaid silhouettes and red gowns
A Secret Hideaway of Star-Studded Labels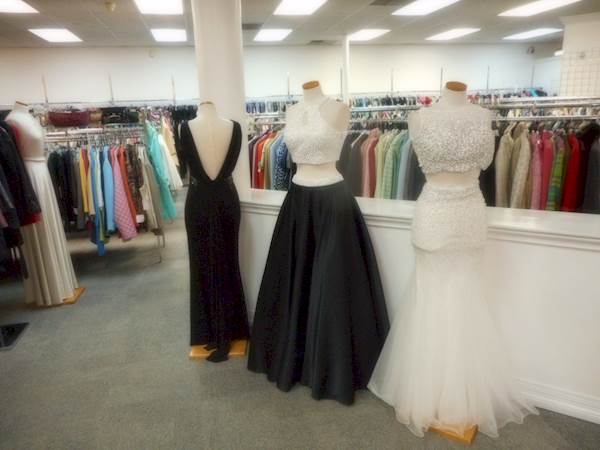 ReThreads
12835 Preston Road, Suite 411, Dallas
Next up on the Preston Road area quest for the perfect gown is ReThreads, a boutique resale store. Stocking both men's and women's wear of all kinds, their evening wear selection is most definitely quality over quantity. Beaded, drape-backed, caped – you will see some unique dresses here, and not just in black and white. Designer labels are abundant, from Oscar-favorite duo Badgley Mischka to upscale prom brands to Lanvin and Hermès on some lovely day-to-evening dresses. Friendly salesmen Ken and Ford knew the stock and made shopping fun and easy by suggesting beautiful options.
What you'll see at ReThreads and at the Oscars: Badgley Mischka and crop-top two piece gowns (and menswear!)
A Haven for the Curvaceous
Larger Than Life
12817 Preston Rd. #136, Dallas
If you're a size 12 or larger, you may not have hit the jackpot yet, but you're not out of luck. In the same shopping center with ReThreads and Terry Costa (coming up next), you'll find Dallas's only exclusively plus-size consignment shop. Owner Alice Sevier tends this gem of a store that has a veritable treasure trove of finds – from almost vintage to almost new. Generously sized fitting rooms make shopping easy. Just outside the fitting rooms, find a nice selection of perfect jewelry (and shoes!) to make that gown sing.
What you'll see at Larger Than Life and at the Oscars: Elegant jersey fabric, lots of bling, and gray/silver/black color schemes
An Emporium of Elegance
12817 Preston Rd. #138, Dallas
The final stop on the Preston Road gown shopping tour is Terry Costa – the boutique that's both an icon of formalwear and of Dallas itself. The store splits its focus between social occasion wear and bridal attire, but customers never lack for attention. Very personal and very attentive service ensure that customers will find a dress they love that fits immaculately. With frequent trunk shows and other special in-store events, Terry Costa should be a regular stop – not just an occasional one – for anyone in DFW who loves to look elegant.
What you'll see at Terry Costa and at the Oscars: Pink (and other pastel) gowns and statement jewelry
Shimmer Boutique
Shimmer Boutique
1017 Elm Street #103, Carrollton
Pageant and prom aficionados and other well-dressed DFW suburbanites love this downtown Carrollton boutique. Shoppers can find all the top evening fashion designs and labels, from Lafemme, Blush and Jasz Couture to MacDuggal. Johnathan Kayne, and Tarik Ediz. Ladies of all ages can make their social occasions memorable with the perfect dress from Shimmer.
What you'll see at Shimmer Boutique and at the Oscars: Spring floral prints and pastels
Custom Couture in the Big D
IMT Designs (Andre Terry)
Dallas
If you want a true one-of-a-kind gown, then Dallas is the place to be – specifically at Mockingbird and Stemmons. Find your way (and make sure you have an appointment) to Andre Terry's studio near Love Field. Terry teaches fashion design to 8- to 12-year-olds there and creates his IMT Fashions line along with custom couture for the evening and social wear.
His designs were most recently seen at the Dallas Mardi Gras Ball(pictured above) and the "Faith and Fashion" event highlighting Dallas area Christian designers. Terry has also designed winning evening gowns and wardrobe prizes for Miss, Ms. and Mrs. Plus America Pageant winners for a number of years.
What you'll see at IMT Designs and at the Oscars: The dress of your dreams, perhaps something quite daring
Outlet Store Superstar
https://www.pinterest.com/pin/490822059366619345
Group USA
3000 Grapevine Mills Parkway #247, Grapevine
This outlet mall store has an astounding number of dresses, mostly geared to a younger crowd, and at very reasonable prices. Everything is arranged by color so self-service shopping is super easy. Smaller selections of Petite and Plus Size gowns are available as well as a small offering of more mature styles perfect for more mother of the bride attire and more conservative events. Add on an assortment of jewelry, shoes, and other fashionable social wear and that makes this store well worth the drive across the metroplex.
What you'll see at Group USA and at the Oscars: A veritable rainbow of colors, and, at least, one piece of wearable art
Dallas Vintage Store
1855 N. Central Expressway, Plano
Another way to avoid the boring or the repetitive is to head over to shop the selection at Dallas Vintage Shop. This store is predominantly a costume shop but excellent organization and classification make it super easy to check out individual dresses that may suit your style. Find beaded or sequined gowns in a wide variety of styles, sizes, and colors or go for a simpler retro look made from satin, chiffon or matte jersey. Retro never goes out of style, so a jewel of a dress from this jewel of a shop will have you turning heads all evening.
What you'll see at Dallas Vintage Store and at the Oscars: Sequins and something very retro. From what decade? Your guess is as good as ours
Accessorize
If you didn't find the perfect accessories along with your to-die-for dress, make one last stop to make that right. Try the big box store of baubles, Sam Moon Trading Company, for a selection of bling that will blow you away. For a quicker stop, try any Charming Charlie, where jewelry is arranged by color, or find a SteinMart for big savings on statement earrings, necklaces and more.
Wherever you shop and whatever you choose, be sure to walk that red carpet with DFW-level confidence. You'll be looking fabulous –  and looking forward to a great day of shopping for your next big-time night out.