This is an archived article and the information in the article may be outdated. Please look at the time stamp on the story to see when it was last updated.
photo credit: Heather Buen
By Heather Buen, NewsCastic
In one of the most highly anticipated summer openings, Jadewaters is now open at the Hilton Anatole in Dallas, Texas. Jadewaters is one of the few water park resorts available in the Dallas-Fort Worth Metroplex. The resort pool complex includes: a leisure pool, beach-entry family pool, lazy river, luxury cabanas and a splash zone with two 180-foot slides.
The full complex will be open from Memorial Day through Labor Day each year, with leisure pool operation year round. Jadewaters is open daily from 9 am to 9 pm with the Jadewaters Bar and Grill open daily from 11 am to 8 pm. Entry into Jadewaters is available for Hilton Anatole guests with a room reservation only.
All guests at the Hilton Anatole will be charged a $25 per day resort fee that includes entrance into Jadewaters along with other amenities. With many features abound here are some areas of Jadewaters that guests will want to explore.
Lazy River at Jadewaters
Offering guests a relaxing experience on tubes. The 630 foot lazy river meanders through the Jadewaters complex with a depth of about 3 feet. It meanders it's way in the center of Jadewaters for a view of the water slides, loungers, kid's play area and sculptures around the complex. Around each bend you may float under wooden bridges, get splashed by artistic fountains or wave at others relaxing around the pool area. Lifeguards are around each bend making sure guests are safe. Many of the lounge chairs are situated along the lazy river with exit points to get you in and out safely. Tubes are plentiful and make relaxing on this lazy river a real treat.
Kids jump for joy in the activity area
The 7,000 square foot pool section with kids activity area has a lot for kids of all ages. In this section comes their very own water slide and water play feature to keep younger kids occupied. The walk up swim area is just a few inches and makes it easy for kids to enter in and out of this area. This play area also connects to the lazy river system making it easy for parents to transport kids around Jadewaters.
Race on the two 180 foot water slides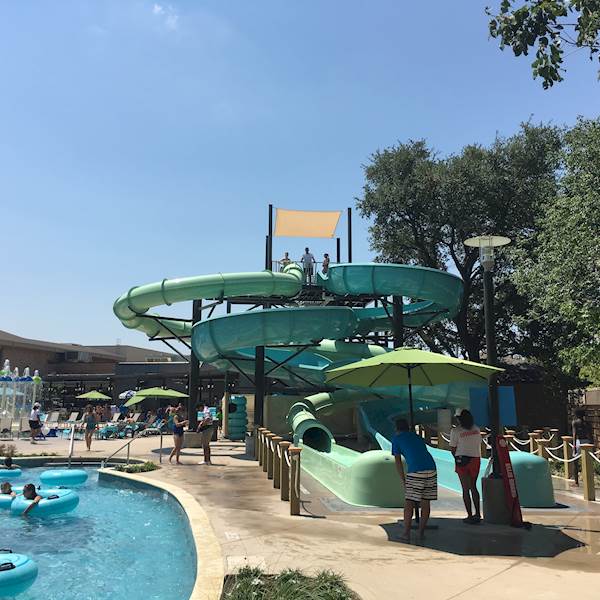 photo credit: Heather Buen
The hallmark of Jadewaters are the two 180 foot water slides that allow guests to get thrills and their adrenaline going. One slide leaves you completely in the dark in a water slide tunnel while the other has an open top for winding fun in the sun. Lines are not long to get your thrills.
Swim up to the bar
Relax and get your drink on at the 23 seat swim up bar. Whether you are relaxing on the underwater bar stools are lounging poolside Jadewaters has an extensive array of signature cocktails, draft beers and full service bar at your fingertips. Charge it to the room. Signature cocktails such as the Caribbean Colada in your very own festive souvenir glass makes it and all the memories worth it.
Serenity in a Jadewaters Cabana or Daybeds
Get privacy and unique amenities when you reserve a cabana or a daybed. Guests of the Hilton Anatole that would like to rent a Cabana or daybed can do so daily by calling 214-748-5233 (JADE), ext. 5233.
Guests that rent a cabana will receive  4 reserved lounge chairs, tables and chairs, 55″ TV, mini fridge, 8 bottles of water, locking drawer, ceiling fan, 8 towels and a tropical fruit platter. Reserved daily from 9:00 a.m. – 9:00 p.m. with service from 10:00 a.m. – 6:00 p.m. for $325 per day. Daybeds can be reserved for $195 per day, with seating for 2-4 guests.
Extensive and tasty menu from Jadewaters Grill and Bar
The food and drinks available on the food service menu at Jadewaters is extensive. Whether you order food and drinks poolside or decide to dine at the 120 seat bar and grill the food options exemplifies the quality of dining options available at the Hilton Anatole resort. Beverages are pricier than you would expect but come with your own souvenir cup. Non alcoholic drinks offer $2 refills, For faster service get the grab and go option from the concession stand.
Extra activities and amenities at Hilton Anatole
The entire Jadewaters complex is open from Memorial Day to Labor Day and the leisure pool will be open year round for hotel guests only. For a per day resort fee of $25 guests will get an array of amenities that includes:
Free Guest room and public space WiFi (up to 3 devices) that normally costs $9.95, local and 1-800 phone calls, admittance into Jadewaters, access to Verandah Club and fitness center, classes, courts and saunas ($17.00 value), Self-parking ($20 value), 15% discount on spa services in V Spa, Two Starbucks drip coffees per day ($12.00 value) and a kids dining option where Kids 12 and under eat free dinner year-round in Media Grill Bar and Counter Offer (one kids meal per adult entr?e) ($12.00 value).
Other activities that guests can participate in are evening family movies on the lawn that begin at dusk, poolside contests like a  cornhole toss, limbo contest, hula dance contests and relay races. For the latest and greatest in summer specials that get you into Jadewaters, you can make your reservation at Hilton.com.