This is an archived article and the information in the article may be outdated. Please look at the time stamp on the story to see when it was last updated.
by Hillaryj, Newscastic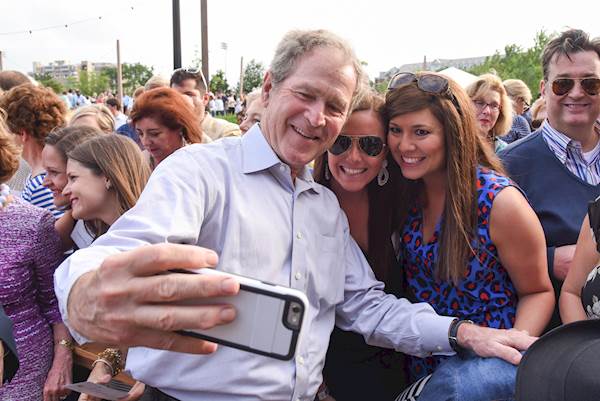 We all know our most famous international citizen in Dallas, and it isn't Mark Cuban. George W. Bush, former President and accomplished painter, lives right here and puts us on the international political map.
Since his meals are no longer catered by the White House chef, he must go around Dallas just like us, ordering food from real human waiters! We've got the inside scoop from a neighborhood source on everything from W's favorite enchilada to his supreme souffle nominee. And we're not afraid to share.
Even a Boss Likes an Enchilada Deal
https://www.instagram.com/p/9b0FTqhtXv/
After sampling the world's cuisines on a budget most of us couldn't dream of, George W. likes a good old $5.99 Cheese Enchilada special at El Fenix on Hillcrest and NW Highway.
El Fenix is a classic, y'all, and the boss loves a deal.
2 Tex-Mexes are Better Than One
https://www.instagram.com/p/BE2NsBexb6j/
Maybe it's a specifically Dallas quirk, but at Fernando's they always serve their chips with pads of butter. If you're a true Native of Natives, you'll spread a lick of butter on your chip before you dip it in the salsa. Perhaps that's why GWB haunts this old Dallas standard.
God Control to Major Tom
After tending its flock of worshipers for the past 100 years in Dallas, Highland Park United Methodist Church has a lot to celebrate. The most notable of the reverent there just happens to be our former Prez, the Dub. It's a gorgeous old church with an excellent pipe organ, but the society really takes it to a higher level.
Even a Bush Can Go To Royal China
Although he may not agree politically with everything that China does, our Famous Friend can't argue with the tasty fresh dumplings at the recently renovated Royal China. This Dallas staple apparently hosts a diplomatic summit now and again between 43's mouth and his tummy.
The Most Famous Haunt of Them All
You may have known that George and Laura enjoy eating at Rise No. 1, and that he even famously received the call about Osama Bin Laden's death while eating his go-to crab souffle there. No one else knows that inside the reclaimed French school desks at the family's special table the restaurant has stashed a trove of private and very personal mementos.
You can catch Jenna, Laura, George W. and Barbara Bush's signatures, as well as Condoleezza Rice's, inside the desks. The management does not, however, allow peeking inside the mysterious scrapbook or the envelope titled, "Ancestry of Laura Lane Welch" (Laura Bush's maiden name). If the family really wanted to keep it private, though, they may have picked a more secure location!