This is an archived article and the information in the article may be outdated. Please look at the time stamp on the story to see when it was last updated.
By Kristi Rowe, NewsCastic
DFW is the birthplace of 7-Eleven, the world's largest convenience store chain, and the home of Pepsi Cola-Frito-Lay, the largest snack company in the world. Ballpark nachos were invented in 1973 at Arlington Stadium and the margarita machine was invented here too. We take our snacks very seriously here, and we go to great lengths to find and eat the best. Here are ten of our Hall-of-Fame-Worthy favorites. See how many you've tried.
Best Nostalgic Snack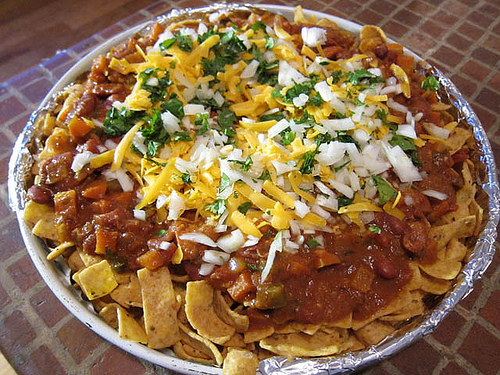 There's nothing better than a snack that reminds you of childhood, right? Who doesn't love Frito Pie, especially here in the land of Pepsi Cola Frito-Lay headquarters? This tasty treat is especially nice during chilly weather (pardon the pun) but the truth is, DFWers eat it year round.
There's nothing better than made-in-the-bag Frito Pie from concession stands in baseball/softball fields all across DFW, but if you'd like to sit down with a hefty serving, head to Tolbert's Restaurant and Chili Parlor in Grapevine.
Best Pie
Sure we love our Frito Pie but we also love some Dr. Love pie. This red velvet chess pie is the new kid on the block (of pies!) and we're making room for it.
To get a taste of this specialty pie, head over to Emporium Pies in McKinney, Texas or the Bishop Arts area of Dallas.
Best Nachos
Given that nachos were "born" in DFW, you'd expect us to have some good ones, right? We do but we also definitely favor the non-traditional. Like the Irish Nachos at J Gilligan's Bar and Grill in Arlington or Asian Nachos (Wontons, Peanut Sauce, Wasabi, oh my!) at Grand Lux Cafe near the Galleria.
Best Off-Menu Snack
Named after Texas Land Commissioner Bob Armstrong, this queso dish got its start in Austin but soon became a favorite at Mattito's in Dallas – years ago. Still not on the menu, and still just as delicious, it's like a cross between queso and layered dip. Think about it – seasoned beef, sour cream, guacamole. Yep, for the win!
Best Frozen Snack
Pineapple Jalapeno, Sweet Tea, Cucumber Lime, Toasted Marshmallow, and many more. The flavors speak for themselves. And at just $3 a pop (pardon the pun) Steel City Pops are also a contender for the best cheap snack in DFW too. Head over to one of five area locations for one of these delicious snacks that are organic, vegan/vegetarian, and gluten-free without a single artificial color or flavor!
Best Healthy Snack
For the best blend of healthy and tasty, we like all of the juices and smoothies at The Juice Bar. If we have to pick a favorite, we'll give the edge to Skinny Coco – a concoction made of coconut water, green apple, kale, spinach, lemon, ginger, and cayenne. There are three Dallas locations and one in Southlake for getting your juice on.
Best Gas Station Snack
https://www.instagram.com/p/zVwf2nHrc5/
If you've never had elotes, you might not know it's a thing. A very delicious thing. But if you ever get gas in certain Dallas neighborhoods on the weekends, you've definitely smelled that delicious aroma of roasting corn. Sometimes it's served on the cob using the husk as a handle or you might buy a serving in a cup with salt, chili powder and crema stirred in. Grab some at Rico's Elotes Fanny, but be forewarned – you'll be back for more.
Best Fried Food
https://www.instagram.com/p/BC5d49DHrvv/
Now clearly, the  "Innovation in Fried Food Award" goes to all of the new and tasty treats cooked up each year for the State Fair of Texas. But DFWers can't limit their fried food consumption to a few weeks each fall, right? Filling that craving the rest of the year might lead you to Jonathon's in Oak Cliff for some Danger Dogs – the deliciously deep fried sausage links wrapped in pancake batter. Dip 'em in something sweet (syrup) or savory (spicy mustard) for a flavor you won't quickly forget.
Craziest Snack
Some call it a snack, some call it lunch, but we call it just plain crazy. The donut grilled cheese at Tom Chee (pronounced "tom and chee") in Richardson is a grilled cheese with glazed donuts for bread. You might have seen them on Shark Tank or Amazing Eats, but the only place you'll see the bright red and yellow Tom Chee signs in DFW are near Alliance and in Richardson. With or without a side of tomato soup, we think you'll really like this wacky snack.
Most Far Out Snack
Well, they're from far away (dreamed up in Hawaii) but they're also pretty far out – as in radically cool. They're Umami Fries and you can get 'em at Teddy's Bigger Burgers in Colleyville. With garlic butter, sriracha aioli and a seasoning powder made of ground seaweed and sesame seeds (among other ingredients) the taste is simply out of this world.
Most Impressive Snack
First off, you have to go more than 500 feet in the air to get it. Next, the restaurant is called Cloud Nine. What they serve you is a replica of Reunion Tower – made out of chocolate. Enough said.
We realize you may be headed out to sample some snacks now. No need to thank us – happy snacking and we'll see you later.