This is an archived article and the information in the article may be outdated. Please look at the time stamp on the story to see when it was last updated.
CADDO MILLS, Tex. – A young lady in North Texas had an unusual brush with the law recently after throwing caution to the wind and abandoning her vehicle. What's unique is the young lady is 7-years-old and her vehicle is… a Big Wheel. 🤣
Instead of pulling into a designated parking spot at her Caddo Mills home October 14, Lily Reimold left her pink & white Big Wheel on the curb, because BUSY, and went on her way. And wouldn't you know it? Here comes the Caddo Mills Police Department.
But instead of giving a citation or having the vehicle towed, Caddo Mills Police Officer Singleton left a bright orange WARNING sticker saying, "This vehicle is considered abandoned and may be impounded if it is not removed with — hours."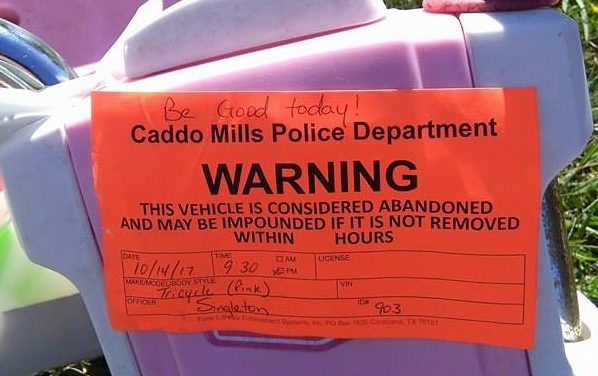 The warning sticker was the real deal, documenting the time, date, and location along with a bag of candy (where are all of the Officer Singletons when I get a ticket??) and some friendly advice. "Be good today!" was written at the top of the warning.
Lily's mom, Amanda, posted the photo to social media, telling the story and praising Caddo Mills police. "Lily has a bad habit of leaving her big wheel on the curb. This morning I came out and found this… Our #CaddoMills police had left her an "abandoned vehicle" sticker and a little bag of candy hanging on it. The note says 'be good today.' How cute is that?!" Amanda Reimold wrote.
Lily's probably too young to realize how lucky she is to get away with just a warning! You'll know soon enough, Lily.
Amanda says Lily has a strong sense of right and wrong and, although she loved being surprised with candy, she took the warning very seriously, telling her mother, "The officer wasn't rewarding my bad behavior; he just didn't want to upset me with the warning, so he left candy, too."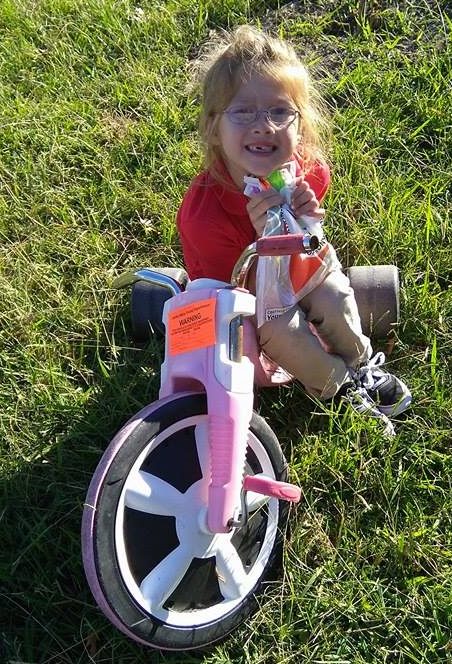 "It was really cute how she processed the whole thing," Amanda said.
Her mom says Lily is a kind, thoughtful little girl who has always been a free spirit, often to her parents' frustration. "It's her enthusiasm that gets her into trouble," Amanda said. That spirit and enthusiasm have earned Lily the nickname #thelilinator. 😍
But Lily's future adventures involve riding only on the right side of the law, according to Amanda. "Suffice it to say, she won't forget and leave her Big Wheel on the curb anymore."
Anyone who's had a bike stolen from the front yard 🙋 will tell you, Lily, listen to Officer Singleton!