This is an archived article and the information in the article may be outdated. Please look at the time stamp on the story to see when it was last updated.
ATHENS –  News Alert: All the teenagers in Athens, Texas will probably have to be home schooled or ride their horses really far next year because the only high school in Athens ISD is up for sale. Wink, wink.
An apparent senior prank has the Athens High School land up for sale on Craigslist.
And it's cheap, too! Asking price is 20170 — 2017 with a 0 added — making it just over $20,000 because "Seniors moving out!" They must be in a hurry.
The listing includes "New football field, old raggedy track, a 2,017 square foot parking lot and 2 gyms." (Guessing they didn't really do the math for the parking lot because… 2017, y'all.)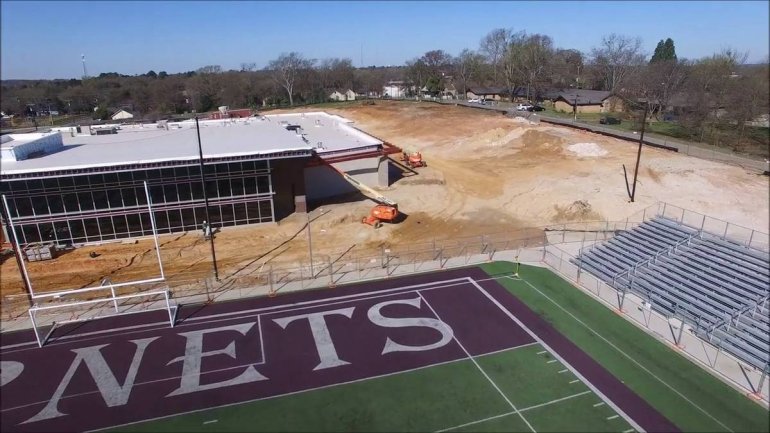 But wait, there's more. "Underclassmen are also included in the package deal!!!" You know what that means, right? Plenty of help getting you moved!
The property is listed as salvage condition manufactured by Hornet (the Athens High mascot) Construction and the 'sellers' are willing to consider selling more than just the land. "For info about including rooms and bathroom etc. please call!"
And… all the rooms have heating and air conditioning. If you've been to East Texas in the last 20 years, you know not all buildings out there can say that.
Maybe this is how they'll pay for a senior trip or college tuition? Who cares, because where else can you get 12 bathrooms for that price?
And locker rooms, three of them. Can you say 'closet space?!' Fully stocked library = book club at your house!
Add in 80 bedrooms, 2 gymnasiums (hello, storage and playroom), and 1 luxury kitchen (😲 When did high schools get luxury kitchens?), and you're set. You can plow up that old raggedy track and grow a fabulous garden.
Or… if you take suggestions from the listing, you may turn it into a prison, since it's "almost there anyways. Give it 2 more years."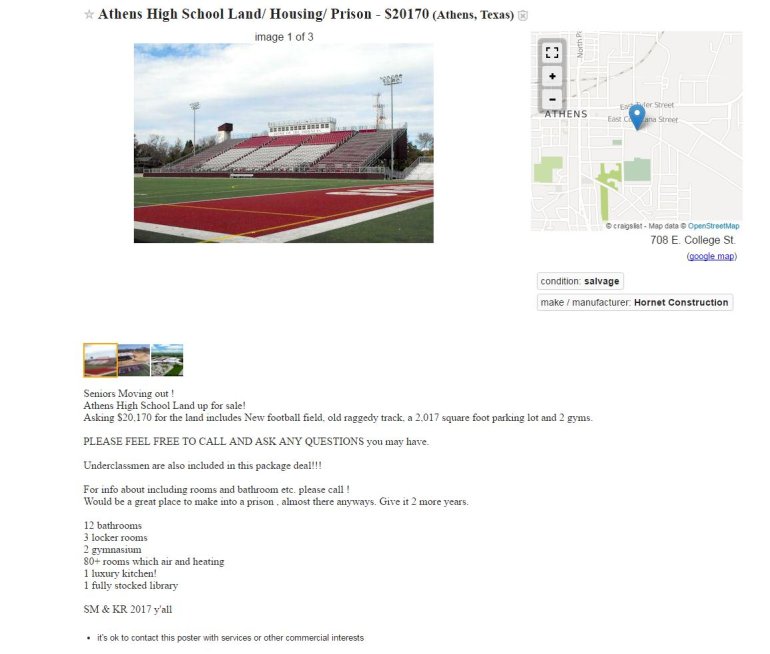 And the cherry on top: They are upper case-encouraging anyone interested to 'PLEASE FEEL FREE TO CALL AND ASK ANY QUESTIONS you may have.' They didn't list a phone number, though, which probably means they want to be able to come back (somewhere) for class reunions.
The post is signed, "SM & KR 2017 y'all!" And they'll always have a great story to tell.
The ad was posted May 23, four (safe) days after Athens High's graduation ceremony. Plenty of time to find a secure place to hide your diploma from administrators.