This is an archived article and the information in the article may be outdated. Please look at the time stamp on the story to see when it was last updated.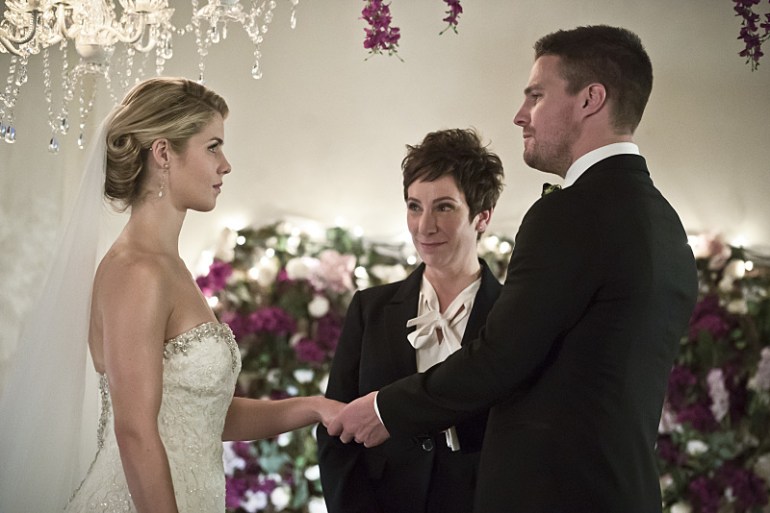 If Oliver (Stephen Amell) doesn't get the message that he and Felicity (Emily Bett Rickards) are done for after the latest episode, "Broken Hearts," he may never get a clue.
While Olicity may be the ship fans of Arrow will stand behind until the end of time, Felicity made it clear that this split isn't a temporary reprieve in her mind. It's final and there's no coming back. "It is over," she tells him plainly. So much so that she even quit Team Arrow, which is a hard pill to swallow.
Rest in peace, original Team Arrow.
RELATED: Amy Gumenick teases a very different Cupid on 'Arrow'
The way "Broken Hearts" played out was intriguing to watch, as Oliver and Felicity went through their split in completely different ways. While Felicity was calm, organized and collected, Oliver just refused to believe it was all happening.
This is what happens when you keep lying to the woman you love, Oliver.
Let's be honest, though. The likelihood of this lasting forever is slim. After all, what's Team Arrow without Overwatch calling the shots?
RELATED: 'Arrow' fans share their craziest 'Who's in the grave?' theories
Still, keeping Oliver and Felicity apart for now is good for the everyone involved. Oliver needs time to work on himself and come to terms with his shortcomings, while Felicity is coming back from a traumatic life-changing event — being paralyzed, not dumping the Green Arrow — and is a much different woman than when first introduced on the show.
Meanwhile, Team Arrow needs to be able to operate effectively, which is hard to do when two key members are tip toeing around each other because their breakup is still fresh.
Besides, it's not like them being broken up means either is back on the market. Oliver and Felicity are healing from their split. Perhaps one day it'll lead them back to each other — but maybe it won't.
RELATED: 'Arrow': Olicity shoe drops, kicks Oliver where it hurts
Really, does anyone expect Oliver to get a traditional happily ever after?