This is an archived article and the information in the article may be outdated. Please look at the time stamp on the story to see when it was last updated.
By Kate Morgan
If you're lucky enough to have one of these 9 majestic beasts migrate near your home or office, you might consider leaving the tupperware container of cold meatloaf from 3 nights ago in the fridge.
Chez Flo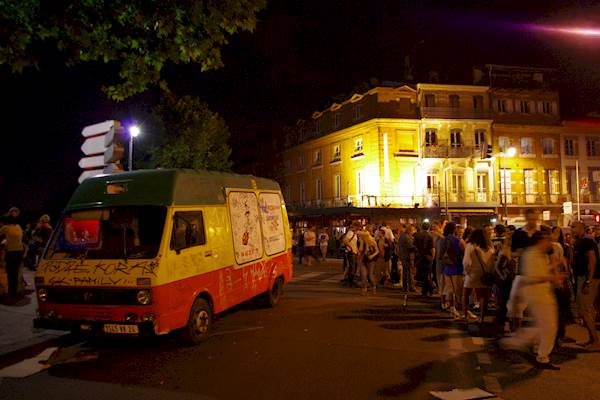 via Dylan.de/Flickr
Crepes. They are versatile. Jaunty. Just like a chapeau. Savory. Sweet. Savory. Sweet. You can get either one. And that's why they rock. To get a thin pour and stuff it with just the right ingredients in the best of kitchen takes skill. To get it done right on the road takes a love of the art. Chez Flo has this down to a science. When I ate "The Vegetarian with Roasted Seasonal Vegetables and Feta Cheese" this spring at the TruckYard, I felt far too classy to be sitting in the back of a deconstructed Dodge pickup. That was okay.
SSahm BBQ
Some things in life sound weird before you know what they really are. Take the word moist for example. Good for cake, terrible for so many other things.
So, how does fermented cabbage (kimchi) sound?
Well, if you're into food from Korea, you probably love it. Kimchi fries are, as strange as they sound, absolutely wonderful and well-reviewed by people who know food a lot better than I do.
The chicken taco is also great if you're not ready for that kind of adventure. I really miss SSahm BBQ being a staple of the UT Arlington lunch time choice lineup. It was a bright spot in a boring sea of pizza and fried chicken sandwiches.
Abe's Flavor Flave
This truck is a humble truck. It does not boast lobster or anything. It has tacos. It also has gyros, and maybe a few other things I'm forgetting. But it has heart.
Serious, serious heart.
Dear God in Heaven, these tacos. So much flavor. I never even got around to squeezing the lime onto them, but the chicken with mild green sauce and the beef with red sauce are amazing. The truck's best customer, Devin, can vouch for the gyros–if you got addicted to a New York or Chicago version at some point in your life and are looking for consistency.
The Virgin Olive
Lasagna is a wonderful thing. Meat. Cheese. Sauce.
There have been odes sung to its awesome glory and the need to Mangia,mangia! Famous cats have also worshiped at its altar.
It's a comfort thing. To find one that can please served out of a truck at a convenient location is surprising.
The Virgin Olive's variant is sure to please all those who like a bright sauce and sausage that can be sopped up with crisp garlic bread. The bit of Caesar salad served on the side is also very tasty. So. Full.
Easy Slider
This is not just a truck that equates the marketing appeal behind road film, and the glorious Peter Fonda, with road food.
These girls care about their tiny burgs. Each one is like a little version of a burg you would love all on its own, tenderly crafted and served to you– just like little pieces of 'merica.
My favorite burger is the Sweet and Lowdown. There's just something about jam and goat cheese. But if that's not your thing, try the "truck-made" bleu cheese slaw on the Black and Blue. It gives you a whole new way of looking at the day.
Rick's Smokehouse BBQ
This would not be an article about Texas food if we didn't at least approach the question of barbecue. It's pretty okay in the right quantities, and when it really displays a finesse for the art of applying fire to meat.
Rick's gets this right, and it manages to be able to get it right enough to bring it mobile and keep it warm long enough to get it to customers. Sauces are of styles to be expected for Texas, and not oversweet.
This Garland-based proprietor know's what he's doing. This brisket is a good brisket. We can't complain.
Ruthie's
Divine. Delectable. Perfect. That is the spectacle that is the Grilled Cheesus. It shimmers in the distance. It is our hoped for reward as we set out on a pilgrimage on a cold winter's day looking for warm treasure.
It turns out faith can pay off. Ruthie's has your passion if you're into melty delicacies. The Plain Jane and Tomato Basil soup shot hit the spot for a big hunger. It's the epitome of creamy cheese; it's the well-crafted iconography of a perfectly toasted bread. I take one knee, as I chow down, for I have hit the holy relic.
Coolhaus
You scream. I scream. The cops come. When they politely ask us to obey the noise ordinances, we go out to get ice cream. It keeps the talkhole occupied.
It's also an important staple food for many Texans. So much so, that when our main production source goes into hiatus–for reasons that are actually necessary to our health, we cry. But it's okay. There are other options.
Coolhaus definitely provides some of them. Scoops. Sammies. Pints. Deliciousness. With a robust variety of flavors available, I tried a single scoop of the new Salty S'mores flavored ice cream. It did not disappoint.
Cousins Maine Lobster
via Dana Moos/Flickr
This truck gets a lot of hype. That's okay. It's not all unwarranted. It is definitely a contender, even if thinking of Dallas does not usually bring to mind the winding coastline and lighthouses of Maine.
Do you remember that time last winter we checked into the Overlook Hotel? That definitely does.
I tried the lobster taco at the recommendation of two roving security personnel at Klyde Warren Park. They had great taste.
Crustacean actually goes a lot better in a taco than you think it might, and the ginger soda packs a punch equivalent to a good, old-fashioned ginger beer.
And those are the best trucks I've come across in my journey far and wide across the the Big D. Do you have a favorite I've missed? Please comment below! I'd love to check out a new truck. Hanger is a serious problem I confront daily.