This is an archived article and the information in the article may be outdated. Please look at the time stamp on the story to see when it was last updated.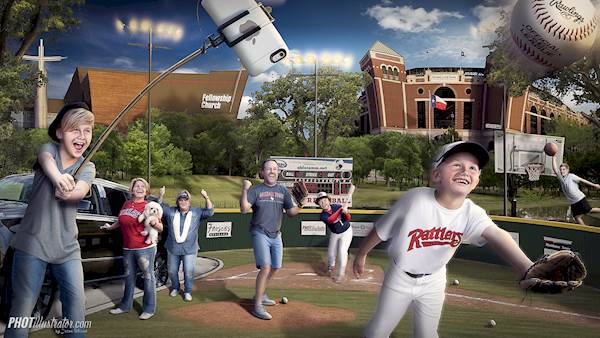 Via Flickr: Jason Ulsrud
Azure Arther, NewsCastic
There are over six million #dallas hashtags on Instagram alone, making it easy to see that Dallas makes its mark, but what about its people? Or its businesses? Is it just the city, or is it the city's inhabitants? Here's a closer look at the individuals and businesses that are slaying the competition on social media.
We Make Our Own Clothes
First up, any Dallasite needs to know Kimberly Yohman, a gorgeous Dallas designer who has over 255,000 followers on her kimikouture Instagram. Her gorgeous designs are not for the faint of heart or for those with low self-esteem. This woman's clothes are meant for the ladies that plan on rocking it with confidence. Although her page is mostly full of her clothing and swimwear line, endearing images of Kim with her son, tantalizing plates of food, and other things that interest Ms. Yohman, are sprinkled throughout the page. Her versatility as a mother and small business owner definitely adds to the appeal of @kimikouture.
We Are Career Oriented
I'm going to buy a 3D printer and use it to print another 3D printer and then return the first one. I'm no fool.

— THE RecruiterGuy (@TheRecruiterGuy) April 23, 2016
Meet the Recruiter Guy, who expresses himself on Twitter with panache and witty sarcasm. It seems for every tweet he makes, he gets at least one follower, if not more. With just under 30,000 followers, the Recruiter Guy has one of the highest Twitter followings out of many of the everyday people in Dallas. He is a self-labeled "thought feeder and conversation advocate," and his feed can be expected to provide laughter, links to great tips and information for job seekers, and recent updates and articles in multiple corporate industries. Whether a person is seeking a job, or seeking a way up the ladder, following this Twitter page is a smart move for any corporate-minded individual.
We Brew Our Own Beer
75,000 people in Dallas agree that Deep Ellum Brewery is a local business that deserves to be mentioned. Although they may not have the highest likes of all time, Deep Ellum Brewery makes up for it in hilarity and a welcoming atmosphere. The Brewery is involved in many of the local events in Deep Ellum and around Dallas, has year-round and specialty brews, and dips their fingers into custom t-shirts and hoodies. For a small business, they've got their fingers in a little bit of everything, making it easy to see why so many people have sought out and found their Facebook page.
We Appreciate Food
Stay away from this Instagram page if you are hungry. Dallas Foodie, "rated in 20 Best Dallas Instagram Accounts and 10 Best DFW Foodies," definitely lives up to her name. The page is a vibrant, mouth-watering panorama of food from some of DFWs finest restaurants and small mom and pop shops. There does not appear to be any discrimination when it comes to the Dallas business location as long as the food is worth the stop. Searching for a new restaurant? Curious if there is a place that serves a certain dish? More than likely, swinging by @dallas_foodie will alleviate the need to search, and add the expectation of excellence on any palate.
We Teach Others
350,000 tweets are sent every minute. Imagine if they were physical birds. Better bring an umbrella!

https://twitter.com/SocialMediaDel/status/746801427314544641/photo/1
— SocialMediaDelivered (@SocialMediaDel) June 25, 2016
Forbes loves Eve Mayer, so does Webbiquity, Facebook, Instagram, and Twitter, but the question remains: Why? It may have to do with her business, Social Media Delivered. SMD offers exactly what its title states, and pun not intended, does not fail on delivery. With over a hundred thousand followers spread throughout the different venues, and clients across the United States, it comes as no surprise that Social Media Delivered ranks in the higher levels when it comes to followers on Twitter. Nearly 57,000 people are interested in Eve's business savvy knowledge on how to create a better social media personality, what the benefits of social media are to you or your business, and many, many other tips.
We Have the Best Hotels
See the geometric artwork of Joel Shapiro at @nashersculpture. #DFW

https://t.co/2lnv2okXtt pic.twitter.com/hxwV0bERRp

— The Adolphus Hotel (@TheAdolphus) June 24, 2016
It probably comes as no surprise to some Dallasites that the Adolphus Hotel has a highly followed Twitter following. While the historic hotel is home of The French Room restaurant, their Twitter page is all about letting Dallas know where to go for a variety of their needs and entertainment, whether it is world travel, wedding desserts or concert tickets. That said, it appears that the Adolphus has no need to tout their own horn when it is obvious that their reputation speaks for itself.
We Have Our Own Artists
The list wouldn't be complete without a little music. Advertised as an artist, alchemist, outlier, singer, rapper, samwiththehair, the Instagram page of Sam Lao, local Dallas artist, has a modest 12,000 followers. With an audio sound all her own, vocals and talent to go with it, Sam apparently has the ear of the Dallas underground, and is a rising star on the Dallas music scene. Her Instagram page is full of her local music covers, and showcases. A drop by her SoundCloud page showed 1300 followers, just ten percent in comparison to Instagram. Could it be Dallas enjoys looking at Sam's hair more than they like they her music? Only a visit to both pages can decide.
We Take Nice Pictures
Last, but definitely not least, even if he does have the least amount of followers, is Justin Terveen. Justin's photography of Texas, particularly Dallas, is a scenic tour through the city from near and afar. Though his Instagram page, theurbanfabric, has a modest amount of 7,000 followers, that's a pretty impressive amount for a local photographer whose Instagram page is less than three years old. His photographs prove his talent, making theurbanfabric a page to follow, and Justin, most assuredly a photographer to watch.