This is an archived article and the information in the article may be outdated. Please look at the time stamp on the story to see when it was last updated.
By Alexis Stice, NewsCastic
Do you think you know all the hot spots in the DFW? Explore our beloved area through the eyes of a tourist and find all the great places to check out.
12 A.M.: Dave and Busters
Make a pact to work hard and play even harder. If the games don't sound tempting I'm sure the drink menu will as well as the billiards tables, big screen tvs and prizes. The drinks range from a cool version of a Long Island tea inside a souvenir glass to an adult snow cone. This is the perfect place to top off the work week. Cheers!
1 A.M.: Explore Deep Ellum
Yes, you may go bar hopping or work in downtown but how much do you really know about Deep Ellum? Walk around and see all the little restaurants, stores, bakeries and other exciting things it has to offer. Who knows you might end up finding an apparel store that has everything you need to build a killer summer wardrobe.
2 A.M.: Kid at Heart, Adult at Mind
Free your inner child by visiting Barcadia! The name suggests it is part bar and arcade which is equal parts fun. Drink and bet your friend you'll beat them at classic arcade games. This makes for a unique night no one will forget.
3 A.M.: Sundance Square
Shop til you drop and eat til your knees are weak. Sundance Square is Fort Worth's premier source of entertainment and fun. They have everything you could want plus more. From jazz lounges to comedy clubs and everything in between, this is the place to be.
4 A.M.: Breakfast at Cafe Brazil
Start off with a helping of Cafe Brazil. They have a glorious coffee bar with many different flavors to choose from that puts your daily Starbucks to shame. Get decadent breakfast options as well! Make a customized pancake creation or plain whichever you prefer, they have it all!
Fun fact: they are open 24/7 and ready to take your order.
5 A.M.: Watch a Sunrise at Lake Ray Hubbard
DFW for the most part is landlocked. Feel our friends in the east and west coast by taking a trip to lake Ray Hubbard. If sailing or catching rays isn't ideal check out they harbor. They have exciting shopping options and even a movie theater.
6 A.M.: Tour Dallas
While many of us have been born and raised in or around Dallas (or have lived here many years) we really don't know our own city. Take a tour and explore through the eyes of a tourist. Find out the history behind our beloved city as well as places you didn't even know existed.
7 A.M.: Bishop Arts District
Take a trip to the new and improved Bishop Arts District. It is home to many fun shops and exciting bars that will make any day so much better. These independent boutiques mean you get to find hidden gems no one else in your office is bound to have.
8 A.M.: Highland Park Village
Bump into your favorite celebrity or feel like one. Highland Park Village has so much to offer in so little time. Check out the elite bakeries such as Sprinkles Cupcakes and Carlo's Bakery (which has recently opened!). While you're there, check out the amazing clothing stores and even get your eyebrows done at the Benefit Brow Bar.
9 A.M.: Get Lost In a Book
Barnes & Noble is so overrated! Find classics and unique gifts at Half Price Books. Visit the flag ship store on Northwest Highway which sometimes has guest speakers, signings, and fun activities. They even have a mini replica of the store made of Legos! Get lost in a book or find your latest summer reads at a bargain.
10 A.M.: Enjoy the Great Outdoors
Image Via Flickr: Namealus
Get some fresh air by visiting the Dallas Arboretum. Enjoy the spring weather while gazing upon the beautiful flowers. Walk off that breakfast and get the creative juices flowing, and get inspired by the world around you.
11 P.M.: Discover Science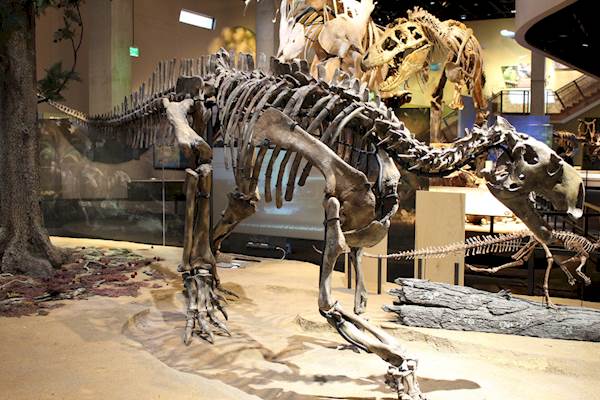 Take a trip to the Perot and discover the world of science. You may not be in school anymore, but that doesn't mean you shouldn't expand your mind. Watch, touch and see life from a scientific view. They have many great films that will leave you excited and amazed.
12 P.M.: Food Trucks Galore
Step outside and get a taste of Dallas at Klyde Warren Park! From delicious cupcakes to killer sliders, the food trucks have all the combinations you could possibly want. Sit outside and people watch while eating the decadent items of your choice.
1 P.M.: Zero Gravity
Zero Gravity is the place to go when you want an adrenaline rush like no other. Bungee jump and more and leave all your worries behind. Feel relaxed as you see the world from a new perspective, and get out of that comfort zone and explore! Just don't remind us what you had for lunch.
2 P.M.: Dallas World Aquarium
See the beautiful of aquatic creatures in a whole new light. Explore life under the sea and be prepared to be blown away. From their awesome rainforest simulation to seeing the creatures float around you this is the best place to visit for both adults and children. See sharks, jellyfish and your favorite creatures up close.
3 P.M.: Get Your Heart Racing
Challenge yourself (and friends) to the Escape Room. It is a simulation that requires everyone to think fast! Go against the odds to "escape" the odds. They have a variety of courses including Zombie Apocolypse, Museum Heist and more to choose from. Simply book a course and time online with a group of friends or with a random group. Are you up to the challenge?
4 P.M.: Northpark Center
No Dallas trip is complete without a trip to Northpark! It has everyone's favorite retailer from Urban Outfitters to luxurious handbags every girl wants to own from Juicy Couture this is the place to be. They even have a Build a Bear Work Shop, the somewhat extinct Disney Store and an Apple Store. Get the motivation to shop with a quick trip to Starbucks and see the innovative stores as well as displays they have to offer especially during the holiday season.
5 P.M.: Six Flags
With the sun getting brighter and the days becoming absolutely beautiful, indulge your inner adrenaline junkie. Eat giant funnel cakes, take goofy pictures with your favorite Looney Tunes character and scream until you lose your voice. Tackle fun superhero themed rides and snag the coolest gifts at this hotspot. Nothing beats good, clean fun reminiscent of your childhood.
6 P.M.: The Stockyards
Get a real taste of Texas at the Fort Worth Stockyards. They hold an exciting champion rodeo, shopping, segway tours and so much more than you think. Explore Texas the way it should be.
7 P.M.: Mesquite Rodeo
Are you too far away from Fort Worth to explore the stockyards? Get a small taste of it by visiting the Mesquite Rodeo! It's fun for the whole family and exciting. See the rodeo up close and personal. It even has a fun gift shop that is Western, unique and will make you want to get on a horse and go!
8 P.M.: Drive In
Very few theaters are in existence. Did you know the DFW is home to one? See a double feature with loved ones for a fun time out that is perfect for the summer, and check out the latest blockbusters with a twist. While Galaxy Theater may be in Ennis, the small drive is totally worth it.
9 P.M.: The House of Blues
Who hasn't dreamt of going to the House of Blues at least once in their lifetime? See an intimate performance from your favorite artists and feel like it's a personal concert. Their restaurant "Crossroads" even holds a special musical bingo from time to time! It is truly a memorable experience every DFW-er should have.
10 P.M.: Is It a Bird or Plane?
Tell us everything you see from the best view ever made possible by Reunion Tower. It has an observational deck that is perfect for seeing Dallas from a different perspective. If you love heights this is a perfect stop!
11 P.M.: Explore Art
Take a look inside the Dallas Museum of Art. They have several floors filled with exciting themes such as African, Asian, Contemporary, Early American art and more! Check out their late night event as well; they have themed activities and are open until midnight.
Try your hand at DMA bingo, grab a drink in the founders room, indulge in their AMAZING macaroni and cheese or even take a stroll in the sculpture garden which is hands down one of the most beautiful places at night.