This is an archived article and the information in the article may be outdated. Please look at the time stamp on the story to see when it was last updated.
By Hillary Juster, NewsCastic
Whether you went to Hockaday, ESD, Bishop Lynch, Jesuit, Ursuline, Greenhill, Trinity Valley, Fort Worth Country Day or any of the over 60 Dallas Fort Worth area private high schools, you probably have a few things in common with the rest of us who did. So let's take a trip down memory lane and remember fondly some of those things that we love so much about ourselves that almost everyone else seems to hate about us. These quirks unite us, and what private education brings together, no later-in-life haters can ever tear apart!
Your Mascot did not Inspire Fear
Whether you're team was the Bishop Lynch Friars, the Greenhill Hornets, or better yet the Hockadaisies, your mascot left a lot to be desired. If you imagine a friar, a hornet, and a daisy out of context, you might think of the Sound of Music or some kind of strange joke, where they all walk into a bar. In the end, we were usually the punchline.
You Often Find Yourself Having This Conversation…
You: "Oh my God! You went to Jesuit?"
Them: "Yep, '03. Where did you go?"
You: "No way! I went to Ursuline '04! Did you know…."
If you're a bystander in this situation, we're not even very sorry. Our schools were small, so it's kind of like running into another alum of the biggest school in DFW. The Private School.
Your Teachers Totally Inspired You
You probably went to a North Dallas private school if thinking of one teacher who instilled you with a passion for learning, brings more and more teachers to mind. The educators in our schools gave us an undying passion for subjects we hardly knew we had an interest in, even dead ones like Latin.
You Freaked out Over a B…
Whether you got it on homework, a quiz, a test, or as a final grade for the semester, a B pretty much spelled the end of the world. We knew a lot about things in private school, and one of them was that B's were on the path directly to failing out of school and getting kicked out of your house.
…Because Your Parents Freaked out Worse
This all got put in your head by your overachieving parents who decided your performance reflected poorly on them. So you tried to hide your shame from your folks as long as you could until the report card came in the mail, and you had to run away to Canada or accept your punishment of being grounded clear through the spring.
Standardized Tests Gave you Butt Sweat
There's something about a number 2 pencil and a scantron that really made us believe in Hell. How many hours of studying, tutoring, and practice tests did we devote all for one SAT, SAT II, AP, ACT, or PSAT? Looking back, we now know that those tests didn't measure much more than socioeconomic standing, but looking at that scantron is making our butts sweat.
Applying to College took 20 Hours a Week
https://www.instagram.com/p/BCeFHrJxoIK/
From private appointments with your college counselor to seemingly endless conversations with your parents talking them down from calling up college admissions offices, to researching schools, you hadn't had the time to even start to fill out applications and write your witty, touching, warm-hearted, and moving personal essay. Applying to college was a part-time job for us.
You Were Secretly Embarrassed you Didn't go to Harvard
If you went to a DFW area private school, chances are you've had high expectations put on you all your life. Unless you're one of the several strivers who actually made it in, the fact that you didn't go to Harvard will always kind of bum you out. Though, who knows, there's always law school!
Awards Made People Lose Their Damn Minds
At our schools, whenever they were giving out awards, which was about nine times a year, they called a special assembly and secretly invited all the winners' parents to attend. The winners would each get a box on stage.
Once, after we wondered out loud what was in one of those winner-boxes, one of our awesome teachers overheard and answered, "A ticket to heaven."
You ran for President of Every Club
As if you weren't busy enough with your 4 AP's, you had to be President of 3 clubs, Vice-President of 2, Secretary of 1, and somewhere on student council. You needed your resume to stand out, remember? Otherwise, your application went to the bottom of the stack of the college admissions pile.
Do your palms feel a little sweaty?
You had a Varsity Letter to Boot
Let's be real, you needed to be well rounded. On top of extra-curriculars, show a varsity letter, and you had the basics for what could have been a solid profile for some good colleges. Not Harvard. Unless you were a 3-season Varsity captain with a NASA internship and a 4.5 GPA. Be real.
Your Teachers had no Mercy for Uniform Violations
We can spot several detention worthy infractions in this photo. The student on the left appears to be rolling her skirt to shorten it. The student in the middle is wearing striped, non-uniform socks. The student on the right has clearly not tucked her shirt in and instead has just rolled it under to appear tucked.
Our guess is those smiles became tears soon after this photo was taken.
You Wore Something Really Weird to Graduation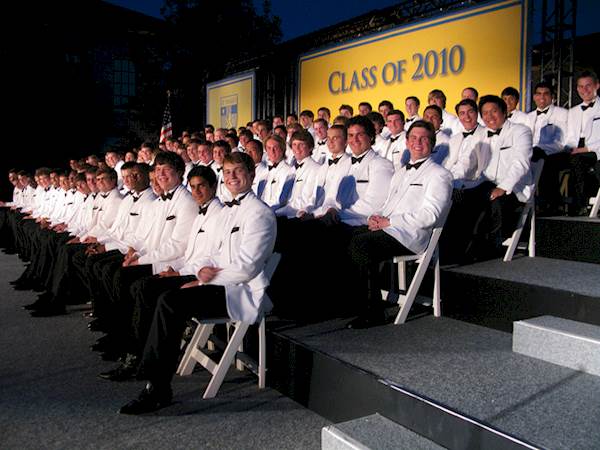 No, we didn't wear a cap and gown. We wore a white tux or dress. It's kind of like reverse marriage. You've spent your life with the school, so you wear something white and promise to never come back except to give them money every now and then.
I guess it's a little more like divorce.
Your School had Super Conservative Values
Your school may have prevented you from organizing a GSA, or they may have stopped you from bringing someone of the same sex to school dances. Sure, they can do whatever they want because they're a private institution. Shouldn't they want their students to express themselves, feel safe, and organize, though?
You Were Kind of a Slob
When you wear a uniform every day, it's easy to get into the habit of rolling out of bed ten minutes before you have to walk out the door. The hard part is trying to unlearn that as an adult. Who knew that hairbrushing would be such a skill.
You Snuck out to Parties Every Weekend
https://www.instagram.com/p/BChBfmqQah5/
Someone's parents were always out of town, and that's where the party was. Someone else had a fake ID or an older sibling and used it to try to get booze. It was basically the plot of Super Bad every weekend. The difference was when someone's parents came home and caught you, they might only be mad about the quality of liquor you were drinking.
"At least have some decency. No Alexander drinks McCormick!"
Your Friends' Parents Seem to run Dallas Fort Worth
Mb3440a
When your friends' parents are Mark Cuban, Ross Perot Jr., or George W. Bush, it's a little easy to get a skewed perception of the world. You can meet Calatrava when he's in town on Trinity bridge business if you want, or spend lunch talking to Ross Perot without realizing it. These are things that happen until you grow up and find out that those opportunities were, in fact, extraordinary.
(Pictured above: Santiago Calatrava, third from the left, whom you definitely should have picked up from the DFW airport when you had the chance you stupid, lazy idiot.)
You Used to Joke About Community College
When you got a bad grade or forgot your homework, you made a joke about Quad C always being an option. Looking back now, it was actually a pretty good option. Collin County Community College had a nice campus, good programs, and way lower tuition than the private college most of us went to.
You Used to Make Jokes About Public School
https://www.instagram.com/p/BCidGfHkt2y/
Public schools to us seemed like this mysterious land where anything was possible. We didn't know whether to believe half the stories we heard. Was it true people did drugs right in the middle of class there? Honestly, though, we did drugs in school, too. They were prescribed to us.
You may Have Been a Spoiled Brat…
https://www.instagram.com/p/BCCSvF4E6zw/
So, yes, a lot of us were very privileged and educated and made insensitive jokes. We didn't take advantage of the opportunities available to us and complained constantly about the pressures we were facing. We didn't know any different! No one had shown us any other way.
…But Hopefully you Grew up and Chilled Out
After seeing more of the world, hopefully you realized there were other ways of doing things and appreciated what you had a little more. Either that or you spent your time in rooms with stuffed peacocks and wall tapestries. It's really up to you!