This is an archived article and the information in the article may be outdated. Please look at the time stamp on the story to see when it was last updated.
The idea was a relatively simple one. Bring more people to Deep Ellum through an arts project. The scale, on the other hand, was grand. Over 200 local artists  of all levels of experience in mural-making submitted themselves to an open call put out by 42 Realty, the development company that owns walls where the murals are painted.
The curator, Lesli Marshall, lives and works in Deep Ellum but paints murals internationally for non-profits. She went through the proposals, matched artists to walls, and led the way to a dramatic transformation in Deep Ellum. Specifically, 42 Murals painted in the area by a diversity of local artists who regularly draw photographers and a constant stream of Instagram tags.
Jane Beaird and Emma Miller – Tag! You're it.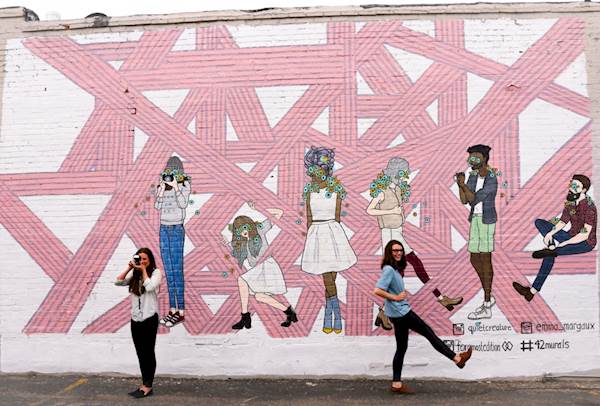 One reason for this steady flow of social media traffic is the prominence of social tags in every one of the 42 murals. You can find them in the bottom right of Emma Miller and Jane Beaird's mural, Seen on Main. Beaird painted the figures, whose style comes from her @quietcreature Instagram account, and Miller painted the background line abstractions.
The Paint Hadn't Even Dried…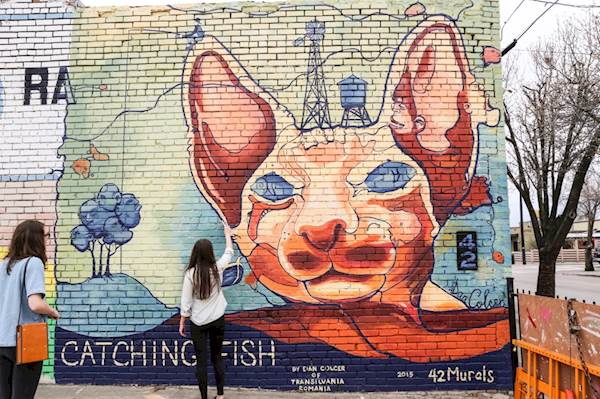 Before they had even finished their mural, which was the last of the 42 to be complete, you could find it trending in #deepellum on Instagram. People wanted to identify with the characters in their urban portrait. They posed as the girl taking the photo. They wanted the haircut of that guy on the right. They stopped on their walks to talk to the artists and find out what they were doing.
BFF Painting Twinsies
Though they had never collaborated before, Beaird and Miller have known each other since grade school. You can sense their familiarity when you're around them. They have a tendency to speak quietly aside to each other, and intuit one another's feelings. They even accidentally dressed alike!
Creating a Social Network
They were so excited about all the other artists participating in 42 Murals, especially their mural "neighbors," and they loved the process of getting more familiar with the community around Deep Ellum. Every mural they approached to interact with, they marveled at the technique, the materials, and the skills of the other artists.
Lesli Marshall – Head of the Rodeo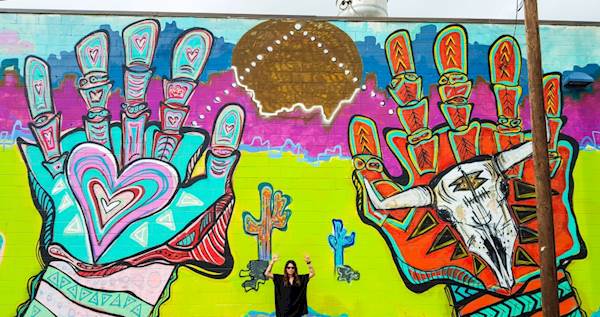 The organizer and curator of the 42 Murals project, Lesli Marshall, also painted her own mural, Cosmic Journey. She wanted to bring some Texas twang into her mural, and expressed a great sense of honor in being able to paint a wall where she lives and works. Look out for her work in the upcoming Deep Ellum Arts Fair.
How to Paint a Mural in the Texas Heat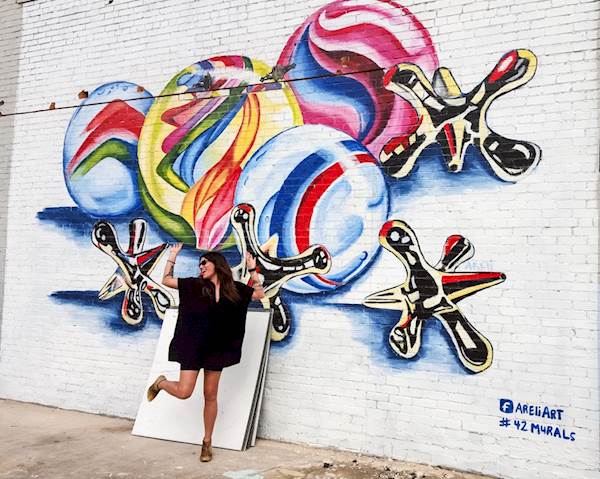 Marshall painted her mural during the hottest week in August. It was so hot she basically had to hide from the sun and only paint in the morning and evening. You can watch her process unfold in a fun video that Daniel Driensky, another of the muralists, put together. The video includes a timelapse of her mural being filled, and will basically blow your mind.
Curator of Experience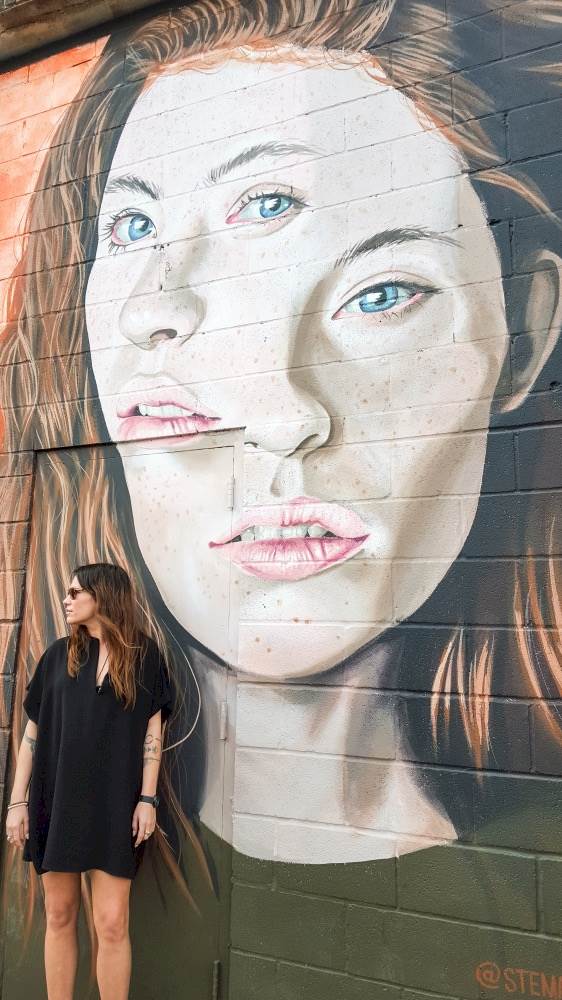 Marshall loved talking about curating. She excitedly announced that many of the artists had never painted a mural before, and all but one were local to Dallas. Actually Beaird and Miller had never painted on this scale before, neither had Daniel Driensky or Sarah Reyes. Fun fact: the youngest of the 42 muralists was a mere 14 years old.
See Them While They're Still Here
These murals won't be around forever. Apparently each artist agreed that their mural could be painted over as soon as 6 months from now. So sometime very soon there could be 42 new murals to draw photographers, families, and Instagrammers down to Deep Ellum in droves. Marshall is only hoping to be able to curate it again.
Sarah Reyes – Architecturally Sound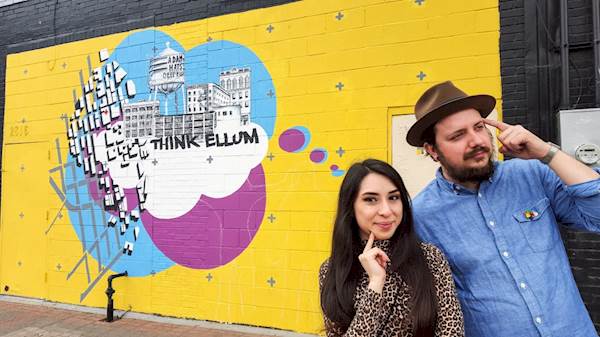 Sarah Reyes' mural shows off her background as a trained architect. She set out to "engage the scale of the pedestrian," a common tactic of good architecture. So she decided to bring in a thought bubble for pedestrians to walk past and "think." When viewed from across the street, you can see people Think Ellum!
Easter Egg Hunt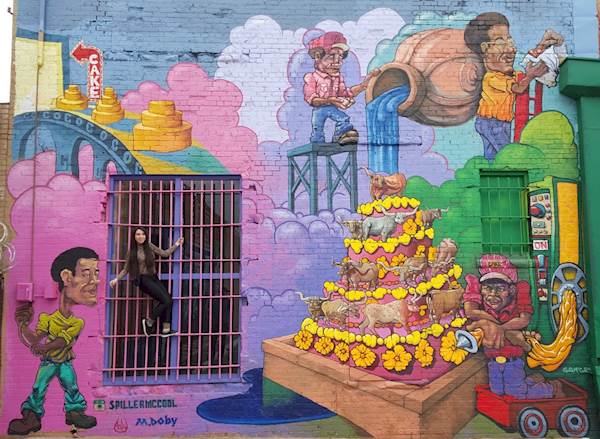 There are plenty of other architectural Easter eggs packed into Reyes' graphic mural. The storefronts pictured all represent historically important Deep Ellum buildings. The city blocks accurately depict Deep Ellum city streets. And what's the red crosshatch? It's the location of the mural within the city.
The Digital Draft Difference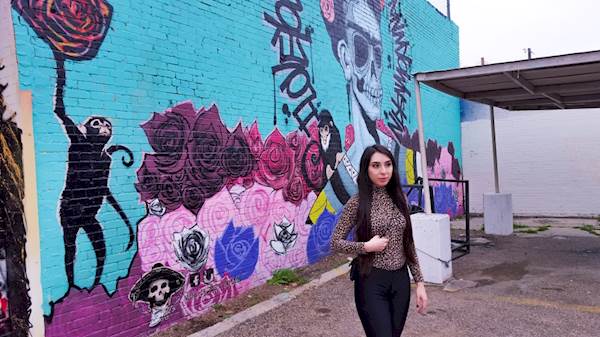 The final touch of architecture came from the planning stages of her mural. Reyes used a computer drafting tool and CMYk colors. Painters generally choose their colors in a different way, which is why Reyes' mural stands out graphically. She designed it more like a building.
Power Art Couple Brings the Muscle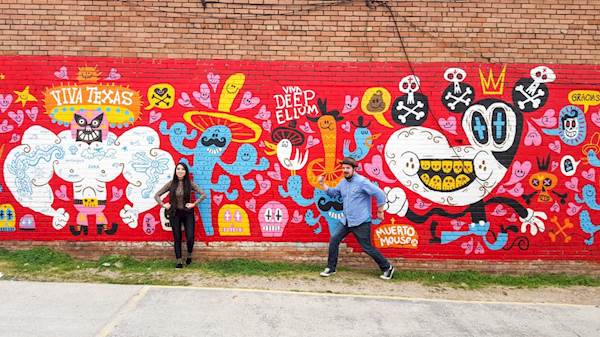 You may be wondering, "Who's the guy with her in these photos?" That's her boyfriend and business partner Daniel Driensky. He helped her paint some large patches on her mural, and he also painted a mural of his own for 42 Murals. The mural pictured here is "Muerto Mouse / Viva Deep Ellum" by director and animator Jorge Gutierrez.
Daniel Driensky – Deep Ellum Blues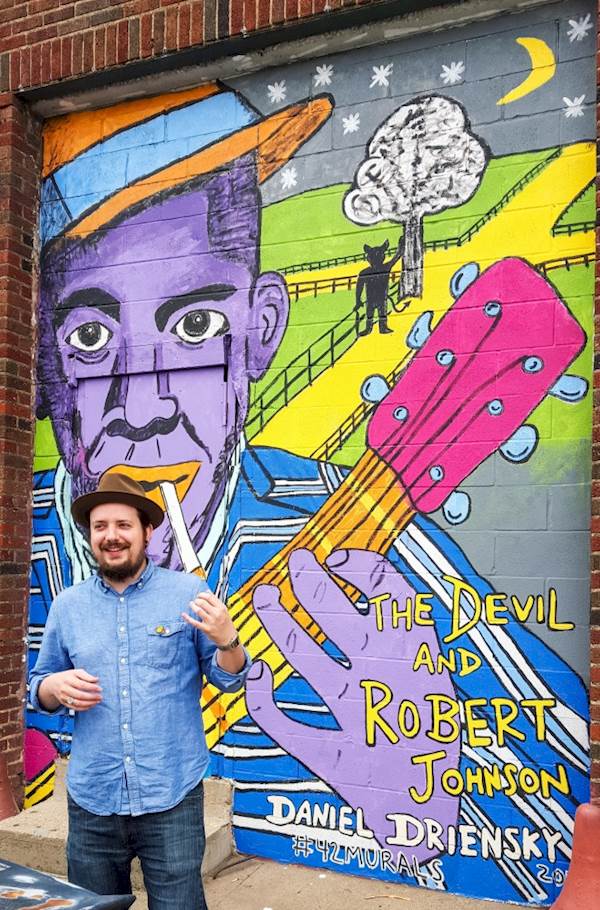 The Devil and Robert Johnson is Daniel Driensky's tribute to blue's legend Robert Johnson. Johnson recorded his famous work in Deep Ellum in the early days of the neighborhood, when the area was mostly black and bluesy. According to lore, Johnson met the devil at a crossroads, and the devil taught him how to play.
Photographer's Fountain (Pen) of Inspiration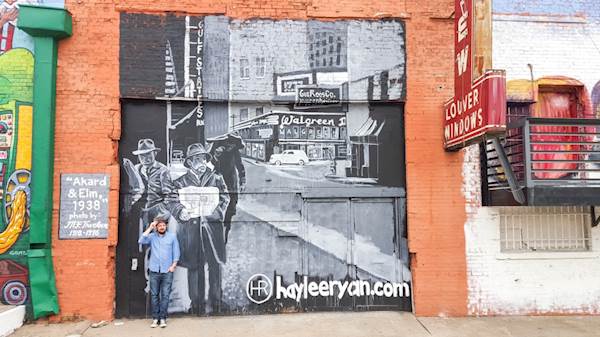 Even though Driensky works as a freelance photographer, he learned to enjoy new materials since purchasing a fountain pen. The visual inspiration for his mural was what he calls his "Driensky drawings," which are fountain pen drawings that he colors in digitally.
It's so Darn Catchy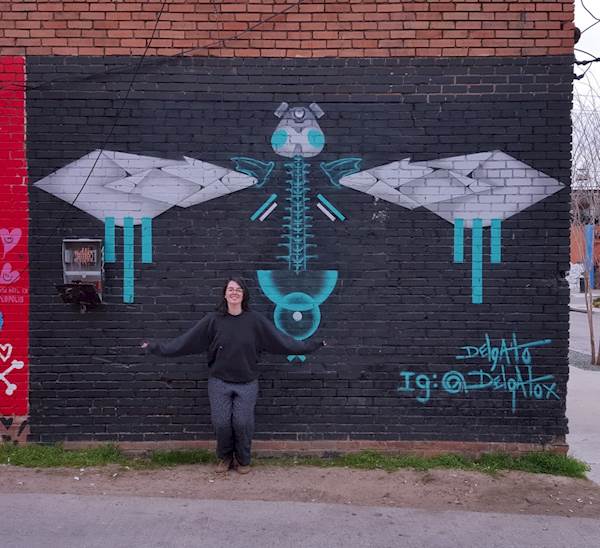 There's something about these murals. Not every work is for everybody, but one of them out there will certainly speak to you. And when it does you should definitely get in front of it. Interact with it. Ask it what it wants you to do. Answer the call. Take a photo. And don't forget to tag the artist and #42murals when you post it to social media.
To find information about more of the murals, head to 42murals.com.