This is an archived article and the information in the article may be outdated. Please look at the time stamp on the story to see when it was last updated.
By Kristi Rowe, NewsCastic
Dallas is big and bold and claims the #1 spots in any number of competitions. We have America's longest light rail system (DART) and largest Arts district. The world's largest airline, oil company and snack company But to get to that point we had to have a few local competitions and rivalries. Here are a few that are famous or fun and who we think is winning.
Which Came First, the Taco or the Shell?
El Fenix vs. El Chico
The great city of Dallas was made even better by the arrival of what we call Mexican food. The Martinez family opened its downtown Dallas El Fenix location in 1918. Down the road a ways, the Cuellar family opened the first El Chico in Oak Lawn in 1940. The rivalry among the founding families is said to be friendly though DFW natives may fiercely defend their favorite "El" restaurant.
Who's Winning? The United States of America.
Best Chips? El Fenix. Best Dessert? Fried ice cream at El Chico. Best flagship store? El Fenix. Most Stores? El Chico. We could go back and forth awarding bests – like tacos (El Chico) and sour cream chicken enchiladas (El Fenix) – for days. But whoever does it best now and whichever family brought it here first, the winner is the city of Dallas. And the state of Texas, and the whole United States. Yes, we think the whole world owes thanks to the Martinez and Cuellar families for the introduction to this amazing cuisine!
Newspaper Wars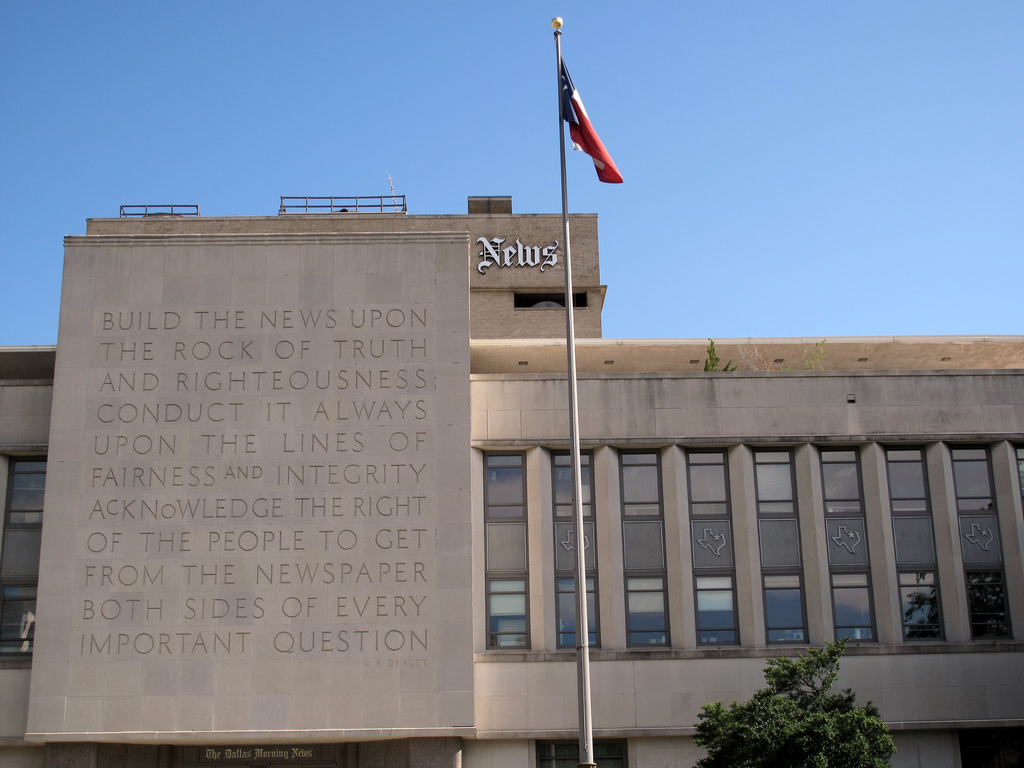 Dallas Morning News vs. Dallas Times Herald
The Dallas Morning News arrived first, a spinoff from A.H. Belo and its first leader George Dealey is kind of a big deal in Dallas history.  First published in 1885, the daily paper had plenty of competition. Its longest running rivalry was with the Dallas Times Herald which began publishing in 1888 and shuttered in 1991.
Who's Winning? The last one standing, still headquartered in downtown today, is the Dallas Morning News.
Why Can't We Be Friends?
Coke vs. Pepsi
This rivalry has given us some great tastes (Wild Cherry Pepsi, Vanilla Coke) and some even better commercials. Even as the market for sugary drinks declines, these two big guys continue to battle it out.
Who's Winning? Well, Pepsi-Cola Frito-Lay has its headquarters in Plano and is the largest snack company in the world. So we'll give it DFW bragging rights for that reason alone. But in Texas taste tests, the "cola wars" winner might actually be Dr. Pepper – the world's first soft drink, which originated just down the road from DFW in Waco.
Red River Rivalry
Texas-OU Weekend
This annual game between the University of Texas and Oklahoma University has been going on since before Oklahoma was even a state! First played in 1900, and hosted in Dallas for all but three years since 1913, it's been held in the Cotton Bowl since 1932. The football game is held each year during the State Fair of Texas and brings about $17 million of tourism dollars to Dallas area businesses each year.
Who's Winning? In all-time series stats, Texas leads with 61 wins. But the real winners are Fair Park and the City of Dallas, for now. There's been talk of moving the game to the new AT&T Stadium in Arlington where the Cowboys play, but for now, the 2016 game is scheduled for its traditional Cotton Bowl location.
Friday Night Lights
Grand Prairie vs. South Grand Prairie High School
Plenty of cross-town rivalries rage across Texas high school football. One of the longest standing belongs to two teams who now share a stadium for their home games. Both the Grand Prairie Gophers and the South Grand Prairie Warriors call the Gopher Bowl their home, although those from South Grand Prairie High call it by its official name (since 2003,) the Gopher-Warrior Bowl. Other famous high school rivalries include Rowlett vs. Sasche, Ennis vs. Waxahachie, and a little further out, the Longview vs. Marshall matchups made famous on Friday Night Lights.
Who's Winning? Despite being a second generation graduate of GPHS, I can only say this. When asked if I went to North or South, I answer like every other proud Gopher, "There is no North. It's Grand. Prairie. High."
Should Have Been a Cowboy
Cowboys vs. Redskins
When talking about football rivalries, you can't leave out the Dallas Cowboys vs. Washington Redskins feud that's been on since 1960 when the Cowboys were still an expansion team. Ranked by ESPN in 2008 as the number one NFL rivalry, Sports Illustrated called it "one of the greatest in sports."
Who's Winning? Come on, you're from DFW. Your two favorite teams are the Cowboys and any team that's playing against the Redskins.
Play that Country Music DFW
KSCS vs. KPLX 
Radio was highly competitive in the 80's and 90's in both the pop and the country genres. From early feuds between Y95 and The Eagle to short-lived oldies battles (KNUS vs. KLOVE) and ongoing top 40 opponents Mix 102.9 and 103.7 KVIL, all the stations court huge quantities of DFW listeners. Country radio is no exception and KSCS (96.3) and KPLX (99.5 The Wolf) have been battling it out for several decades.
Who's Winning? Too close to call. Dallas listeners win with a variety of country stations to listen to. And if you can't pick a favorite, you can find dozens more on satellite or phone apps.
Dallas Has Earned Its Fashion Creds
Neiman Marcus vs. Saks Fifth Avenue
Neiman Marcus was born in Dallas, and its original (and current flagship) store is still open in its original downtown location. Interestingly enough, A.L. Neiman got his start working for another Dallas retail team, the Sanger Brothers who later merged with A. Harris. Both Sanger-Harris and Titche-Goettinger were operating in Dallas in the early 1900's, where competition was fierce among these retail stores and their successors for over a hundred years.
Who's Winning: We love Neiman Marcus, and downtown Dallas is a clear winner, but we're going to give this one to Saks. Neiman Marcus opened in 1907 and has 42 locations. Saks Fifth Avenue opened in 1898 and has 46 stores. The big over-the-top boost to Saks comes from its 110 Off Fifth outlet store locations. We've got a few of those here in DFW, and we like looking good for less.
One Way or Another
Whitewater vs. Wet 'n Wild
Rumor has it that after Arlington waterpark brand Wet 'n Wild, Inc. bought the property of its neighbor and competitor in Grand Prairie, closed it down, and poured concrete into the drains to prevent anyone from opening a water park at the venue. The Grand Prairie City Council had attempted to do just that, and at one point the council was granted a restraining order intended to prevent the destruction of the park. In the end, the projected cost to restore the park was out of reach for the city, and the idea was abandoned.
Who's Winning? Six Flags Over Texas.
Six Flags is now the owner of Hurricane Harbor, formerly Wet 'n Wild water park in Arlington, Texas.
Dirty Rice (Done Dirt Cheap?)
Pappadeaux Seafood Kitchen vs. Atchafalaya
Many older DFW natives remember the Mr. Catfish restaurant and its scenic location on Copeland Road in Arlington. A Pappadeaux Seafood Kitchen stands on that old site, but whatever happened to the neighboring Cajun seafood spot? This is completely unsubstantiated but a friend of a friend of a friend who worked for a locally headquartered on-premise liquor distributor at the time said the Pappas chain wanted not only to win the seafood wars but to drive the Riostar-owned Atchafalaya out of business.
It's most likely that this is just a colorful story. Atchafalaya was part of the Riostar group of restaurants, which was already headed toward bankruptcy. Both the Pappas family and the Laurenzo family (Atchafalaya, Ninfa's) are part of Houston's local restaurant history, but that's a story for Houstonians to explore.
Who's Winning? Pappadeaux of course, but Arlinton boomers sure miss Mr. Catfish.
All You Need is Love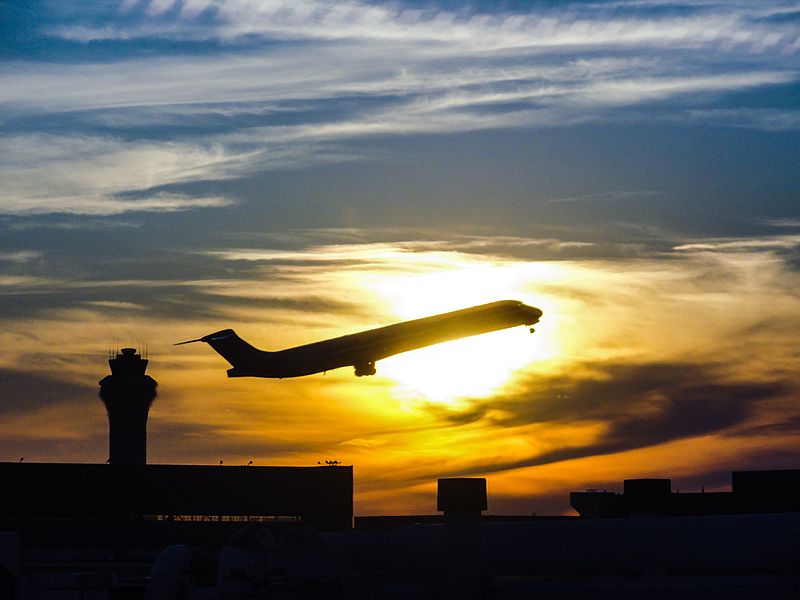 DFW vs. Love Field
This feud actually came about due to fights over federal funding of Love Field and Greater Southwest International Airport in Fort Worth. It was clear that air traffic needs were going to be greater than existing facilities allowed for and thus, Dallas Fort-Worth Regional Airport was born, and later became an international airport. The continuing story is long and complicated, but suffice it to say that both airports and their partner airlines (American One World and Southwest) are thriving.
Who's Winning? International travelers, the world over, and Dallasites who have a choice of two home airports to fly out of.
I Love You, You Love Me
Barney vs. Sane Parents All Over America
Now that you've learned a ton of DFW feud history, we'll wrap it up on a lighter note. This time, DFW has to accept a claim to shame. The Barney show with all its charm was created and produced in Dallas. With original episodes running from 1992 to 2010, the show had ample opportunity to turn toddlers into purple-worshipping, Barney-singing zombies.
Who's Winning? If anyone in your household still wants to watch Barney shows or recordings, and you're saying no, we sure hope YOU are.