This is an archived article and the information in the article may be outdated. Please look at the time stamp on the story to see when it was last updated.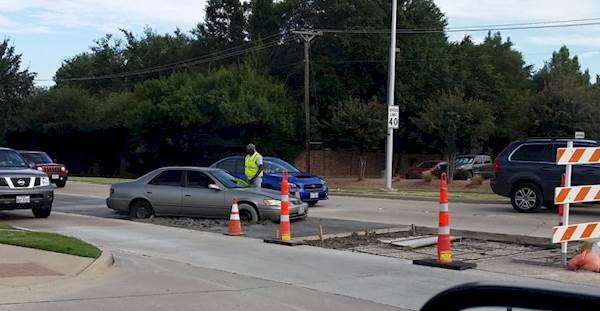 By Hillary Juster, NewsCastic
Recently, it was reported that Plano drivers have gotten some heat for being so impatient that they would literally rather drive into wet concrete than wait another minute in traffic. You might think of this as a strange, isolated phenomenon, but actually, driving into constructions sites is one of the least dangerous maneuvers of a typical Plano driver.
We've racked up 11 of the most hair-pulling, inconsiderate, and often harmful tactics employed by the average Plano driver. Careful now, once you read our list, you may hesitate before you ever go back!
11. Speeding
via Giphy/MTV
Even though the speed limits are around 5-10 mph higher in Plano than other parts of the DFW metroplex, the drivers there still speed all the time. If you think Plano drivers are too slow, you're probably part of the problem.
10. Tailgating
via GIPHY.com/Fox
Plano drivers will communicate their displeasure with you not speeding by following directly behind you. This is dangerous! Especially in the rain.
9. Ignoring Weather Conditions
Ok we get it. Sometimes you're late and speeding and tailgating and the rest seem appropriate. You know when they're absolutely not? When it's raining or snowing, or otherwise low visibility. Isn't that common sense?
8. Leaving the Headlights off in the Pouring Rain
This may not seem so annoying at first glance, but add in some of these other nasty habits and take another look. Do you really want someone speeding and tailgating you in the pouring rain, with no headlights on? Yeah…we thought not.
7. Talking on the Cell
When you're talking on your phone, you're not paying as much attention to what's happening on the road. This will likely cause you to spend less time signaling, and more time driving erratically.
6. Not Signaling
via Giphy/AdultSwim
When you don't use your turn signal in traffic, it's confusing and dangerous. We know. Your hands are occupied holding your cell phone. Well, did you ever consider not talking on your phone at 70 mph? Just a thought.
5. Cutting People Off
via Giphy
We get it. You're the most important person on the road. No one should get into your lane ahead of you. We're on board. We just also kind of hope that your lane becomes wet concrete. Sorry/not sorry.
4. Jamming into a Lane
via Giphy/NBC
Since everyone else on the road is negligible to a Plano driver, they will enter your lane before you can slow down to let them in. It's scary and can cause many near-misses.
3. Ignoring Stop Signs
via Giphy/NBC
With all the kids in their neighborhoods, you'd think Plano drivers would be more committed to stop signs. I suppose if you're willing to drive into wet concrete, stop signs are minor.
2. Playing Videos in their Car Seats
via Giphy/FOX
These in-seat videos that Plano parents play in SUVs are so bright and distracting for other drivers. They're like mini Omni Hotel displays, and they're gonna cause accidents.
1. Teaching Their Kids How to Drive
via Giphy/Paramount
Plano kids with their own cars pose a significant threat. After all, their Plano parents taught them everything they know about driving. On top of that they have no experience. They represent the future of Plano's terrible driving culture, and honestly, they're welcome to keep it!