This is an archived article and the information in the article may be outdated. Please look at the time stamp on the story to see when it was last updated.
via Adam Simmons/Flickr
By Bryan Yalta, NewsCastic
Before we get started, yes, this is going to be subjective. However, since many people tend to think Dallas is number one in everything, it's fair to criticize what is hyped up to be great yet, in reality, disappoints. So, before people are misled about Dallas and their expectations get too high, weak points will be analyzed here and illusions shattered.
By the way, just because something is considered overrated doesn't necessarily mean it still isn't good. That being said, you know what really grinds my gears? Overrated stuff and Dallas is full of them. In no particular order, here are ten things Dallas should stop boasting over.
AT&T Stadium
Sure, it may have one of the biggest screens in the country, but is it worth it? If people pay to watch an event on a screen, why not stay at home where one can watch it more comfortably than sitting in one of those tiny stadium seats? What's even worse than the seating is how overpriced concessions and parking are compared to places like the AAC. People still give in, however. If it's the crowd spirit that convinces you that it's not the same as watching from home, there's another place to visit. Dallas is home to a stadium with a higher seat capacity and history behind its back: the Cotton Bowl.
Deep Ellum
Deep Ellum Station. This is the…end of the line on weekdays for some people; for most, that comes some stops before. Elm street is home to many venues and bars that make up most of Dallas's music scene. What with places like Trees, Club Dada, and Three Links there's many options to choose for national bands to perform in. But what about Dallas's own bands? There doesn't seem to be a lot of support that should create the liveliness of the district. Now, in Denton, venues like Andy's, Rubber Gloves, and Dan's Silverleaf cater to more of the local scene, which just screams of more spirit than the Deep Ellum local scene. But hey, you know what else is in Deep Ellum?
Serious Pizza
Gigantic pizza. Yes, it's lovely and greasy and people love it. However, for just about the same price, Olivella's pizza can satisfy you with just a slice of its cheesy perfection. Big doesn't exactly mean that it's great. It's all about quality, and as much as Serious Pizza is talked about for its size, Olivella's delivers with just about the same weight in taste.
Angelika Theater
The Angelika is good for independent and foreign films not shown in regular theaters. I think that's about it. If you're a movie lover and are not snobby, check out the Alamo Drafthouse instead. It's practically the same, except with stricter rules on cellphones, talking, and children. For mature audiences only.
Bishop Arts District
Somehow, this part of town has gathered popularity with the people of Dallas and I don't know why. The 'experience' is just the same as in downtown: shop a little, dine, then walk around. In case you're not aware of it, that's all there is to do in Dallas. You don't need to go to any specific part of the city to experience that. I'm sure the residents of Bishop Arts want some peace from those who want to invade the district week in and out.
Granada Theater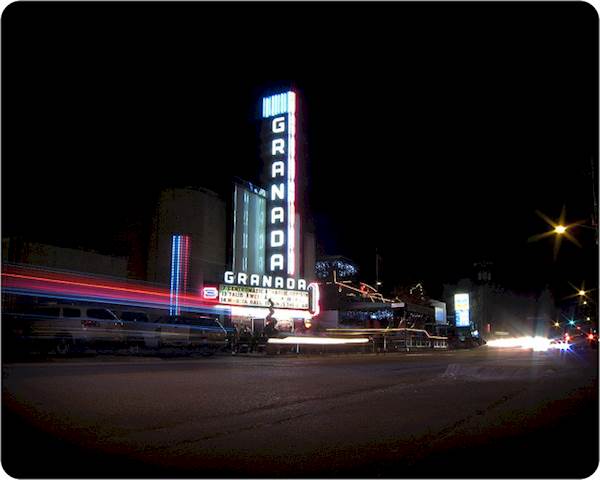 If you are much into intimate folk performances, this is your place. For the rest, House of Blues is on the other side of town. The exterior design of the Granada creates the appearance of grandeur with its marquee resembling the remnants of an older time. Once inside, though, you are led towards three standing-room sections that limit the movement of the crowd once the show starts. The vibe leans towards the crowd: if the crowd's not feeling it, you're not feeling it. Unfortunately, it happens a lot.
Downtown
Just like the picture–dead. Walk around downtown Dallas any weekday and you'll find it almost like a ghost town. Because everything is far away, there aren't a lot of people that walk around this supposedly metropolitan city. You won't find every day the crowd of people amassed in, say, a weekend event the city hosts every now and then. That's because most of the people it attracts come from other parts that are 15-30 minutes away from downtown. The city is mainly populated by businessmen who work in all those tall buildings shown in Dallas skylines. Speaking of…
Nature
All those business buildings are what practically make Dallas…Dallas. Besides Klyde Warren park and Main Street Garden, there are practically no signs of nature to be found inside the city. For outdoors people, there is almost no natural scenery to pass through.
Dallas is not a place for natural beauty. It is, instead, meant for architectural beauty, where business strikes at you on every corner. As hard as it is to avoid being reminded that this city is full of business districts, it's harder to look for sincere environmental parts of the city. Each tree planted on each street seems like it was put there by force.
Complaining About Traffic
It's true, construction takes up most of Dallas's highways which create hours of traffic all throughout the city, but at least it's not like traffic in Houston or Austin. Dallas may have horrible traffic, however, it could be worse. Infrastructure takes time and within a couple of years, Dallas will be easier to navigate through with new overpasses. The next complaint will be paying to go through them.
Dallas Radio
This must be said: genre options for music on the radio is limited in Dallas. Tune to one station; you'll hear a song (it's okay). Wait a good 30 minutes to an hour and you'll hear the same song aired. Tune to just about any other station and the process will be the same. The only radio station that somewhat plays an eclectic style of tunes is the public station KXT but even then it's hard to stay engaged when that monotonous voice comes on: 'You're listening to 91.7 KXT. Dallas, Denton, Ft. Worth. Commercial-free. Please donate.'