This is an archived article and the information in the article may be outdated. Please look at the time stamp on the story to see when it was last updated.
By Alexis Stice, NewsCastic
Technology has become a necessity rather than an option. With smartphones rapidly expanding we are finding new ways to take advantage of it. Have the world of Dallas in your hands with these handy, must have apps. From discounts on food to salon appointments get it all with the touch of a few buttons.
10. Lyft
Lyft is much like Uber but less expensive and offers promo codes right off the bat! Upon downloading you will receive notifications for multiple free rides making this the perfect way to get around. It comes in handy when you need a designated driver or are dealing with car problems. This app shows the driver picking you up, wait time and allows users to create a profile. Get a Lyft when you need it the most. The download is available for android and iPhone on their website.
9. Transit App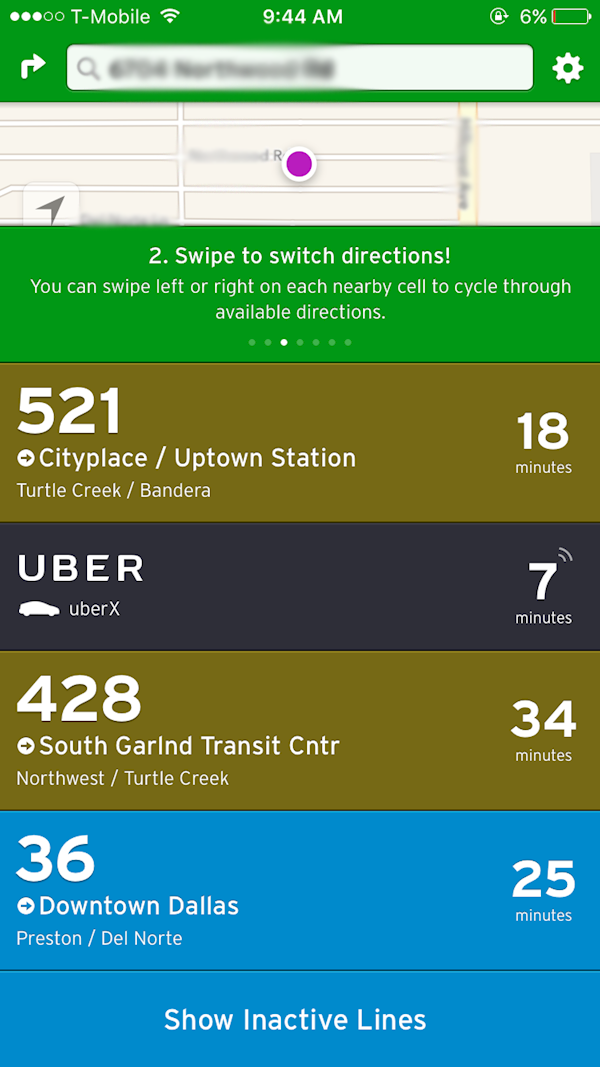 Getting around Dallas can be hard at times especially when using public transportation. Make it a lot easier on yourself with Transit App. This allows users to find out bus and train schedules in a flash. Also, if you are running short on time it gives an estimate on an Uber! iPhone and Android users can both enjoy this app.
8. StyleSeat
Do you hate getting the run around while scheduling beauty services? Never again have to deal with hurried phone calls or long waits for being a walk in. StyleSeat will show you different cosmetologists in your area and provide a listing of the services they perform along with prices and reviews. Through this app, you can make an appointment and have it confirmed instantly. Save time when getting beautiful. Try it out on the Play Store and App Store.
7. Groupon
Find new things to do in town on a budget thanks to Groupon. Try out a hot new hookah lounge, go bowling, enjoy a new restaurant, or even treat yourself to a spa day! Most of these are meant to bring in new customers so why not take advantage? Sign up for emails and enjoy special promotions from time to time such as 20% off beauty services or $10 off entertainment. Take advantage of these deals today by downloading and exploring all that it has to offer.
6. Raise
Are you on a budget? Enjoy the restaurants and shopping you love at a bargain thanks to Raise. From this app discounted gift cards can be purchased and used instantly (you can also sell cards as well). Use the promo code ASTICE and receive $5 off of your first card. This app has it all from Starbucks to Victoria's Secret. I personally have been able to purchase an $18 Starbucks card for $8! Take advantage of this app today for a steal.
5. Star Walk 2
Impress your date or friends with this unique app. Raise it to the sky and discover different constellations that are right above you. No matter how much you know you'll learn more instantly. This app is a great conversation starter and the perfect excuse to go outside. Enjoy the beauty around you with this little reminder. Go stargazing tonight for an unforgettable experience by purchasing this app. It's free for Android but is a small price for iPhone users.
4. Live Nation
If you are a frequent concert goer this is the app for you! Save ink by using this to show tickets and also to buy some. Are you attending an event at the Gexa Energy Pavilion? Enjoy food delivered straight to your seat! This is one of the few venues that has this special feature so take advantage. See which artists are coming to town in no time. This is an essential app for those that love live entertainment.
3. Saucey
Don't be a bad host at your next get together! Instead of making a liquor run have it come to you. This app will deliver everything from liquor and beer to tobacco products. Provide everything for your guests without anyone having to leave. Avoid the awkward "who's going to the liquor store" question by downloading today.
2. Gas Buddy
Gas prices vary from different parts of town. So keep tabs on places to avoid and where to fill up with this handy app. This is perfect for those with a commute or even on a road trip. Wherever the wind takes you find gas that doesn't break the bank. Get great deals that won't get you stuck on empty. This is a must have app for all drivers.
1. Favor
Feeling a little under the weather, lazy, or have transportation issues? Be sure to call in a Favor. This unique app allows you to get a variety of food and health products delivered to your door. Enjoy favorites such as Whataburger, Raising Cane's and so much more. The driver will even send texts to update on the status of the order and send the receipt. All orders are saved just in case you want to order the same thing in the future. What are you waiting for? Stop drooling over the screen and download it now!