This is an archived article and the information in the article may be outdated. Please look at the time stamp on the story to see when it was last updated.
DALLAS — Looks like things are going from bad to worse for party animal Johnny Manziel. We now know more about what happened last weekend when a police helicopter was sent out to search for the troubled QB.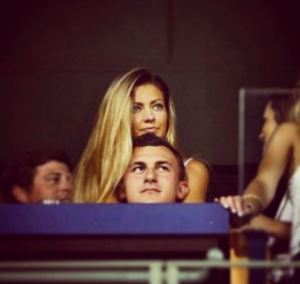 A Fort Worth PD reports says ex-girlfriend, Collen Crowley, told them Manziel hit her several times during a fight at Hotel Zaza in Dallas and that he was acting "as if he were on some kind of drugs."
Crowley says he attacked her while driving her home to the Berkeley Apartments.
A neighbor called 911…
"I'm calling because one of my neighbors, I heard her screaming so I came down. She said her boyfriend assaulted her, her boyfriend left and said he was crying and trying to stay with her."
Manziel told TMZ Sports — that's a lie. He says he did not hit his ex-girlfriend and denied that he's suicidal.
Crowley has reportedly drafted an order of protection, but Fort Worth PD and Dallas PD have officially closed their investigations. No charges have been filed against Manziel.
But, charges or not, the quarterback's reputation needs serious rehabilitation. On Friday, Manziel's agent dumped him. Even worse, his dad is telling reporters if his son doesn't get help, "He won't live to see his 24th birthday."
So, what about Manziel's best chance at redemption — a pardon from Jerry Jones? Well, the Cowboys are reportedly no longer interested.
With his NFL prospects looking bleak, Manziel's only option after March may be to cross the border into Canada to play for the CFL. We reached out to the CFL headquarters — no response.
But don't forget, the CFL has implemented a domestic violence policy that includes a possible lifetime ban for violence against women.
Now, let's see if Johnny Football can stay out of trouble during football's biggest weekend.