This is an archived article and the information in the article may be outdated. Please look at the time stamp on the story to see when it was last updated.
Which reusable serving dishes and trays are best?
With the National Football League's postseason in full swing, it's time to start preparing for the Super Bowl party you want to throw. When it comes to said party, the only thing more important than having a good TV is having the best food. For food, quality is most important, but the presentation has a surprisingly large effect on enjoyment, too. You can't just toss a bunch of cookies on a paper plate. The best way to present your delicacies is to arrange them on a beautiful serving dish, platter or tray.
In this article: Mora Ceramics Hit Pause Serving Dishes, Renawe Serving Platters and Willow and Moore Serving Tray
Serving dish, platter and tray differences
Although some use the terms "dish," "platter" and "tray" interchangeably, each is a unique item.
Serving dishes are small and hold limited servings of various items or small-to-medium-sized amounts of foods that mix together, such as dips. You may think you should use paper plates instead of serving dishes when it's time for everyone to load up their chosen foods. Don't. It's better for the environment and your atmosphere to use washable dishes instead.
Serving platters are large and hold many of one type of food. These are what you stack your chicken wings on once they're cooked and sauced.
Serving trays are also large, but food should never touch them. Instead, they're used to transport multiple platters or dishes at once. If your buffet and your TV are in the same room, for example, you'd use a serving tray to deliver fresh food from the kitchen to the already-empty serving dishes and platters on the buffet table.
Terms to know
No matter if it's a dish, platter or tray, there are three terms you need to understand before you shop.
Well: This is the lowest area of your dish, platter or tray. Some have no well, meaning they're flat, like a charcuterie board. Others are all well for holding juices and sauce.
Rim: This is the far outer edge of the dish, platter or tray.
Lip: If a dish, platter or tray has a well, the lip is the space between the rim and the well. Some have extra-wide lips that make it easier to hold and move them, and some have the narrowest lip possible to hold the most food possible, with plenty of lip sizes.
Size and shape
When displaying your food with a dish or platter, you should have it as full as possible, so it seems like you have a never-ending bounty. Make sure, then, to buy an appropriately sized item.
Shape, meanwhile, can help you spice up your presentation. Consider using a rectangular platter to stack your wings in a pyramid shape or a square one to match your brownies.
Handles
Some dishes, platters and trays have handles. These can be attached to the rim or cut out from the sides. They can sometimes lean more toward functional and sometimes more toward fashionable. Regardless, they're important if your kitchen is far from your designated display location.
Temperature handling
Some dishes, platters and trays are safer for use in extreme temperatures than others. Look for information that says your potential new item is oven- or freezer-safe so you can save on cleanup time by using it for cooking, displaying and storing. For bonus points, check if it's also microwave-safe for easy reheating of leftovers.
Best reusable serving dishes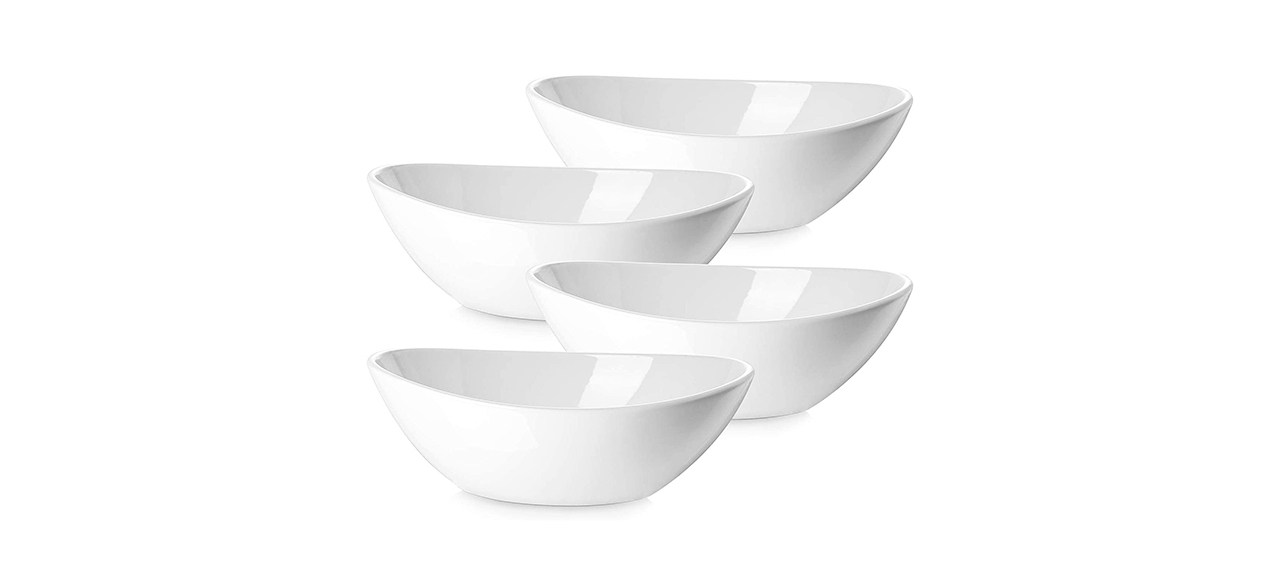 The dishes in this set of four measure 9 inches long, 6.5 inches wide and 3 inches deep. They have a 36-fluid-ounce capacity and are microwave-, oven-, dishwasher- and freezer-safe.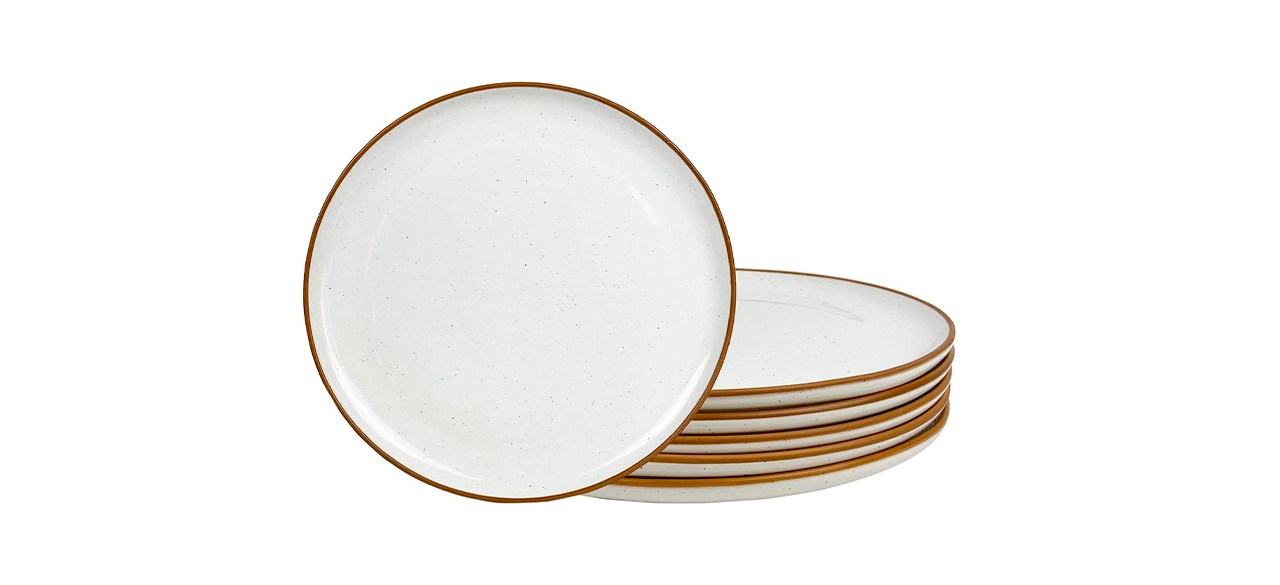 Mora Ceramics Hit Pause Serving Dishes
The six dishes in this set are 10 inches in diameter, which is more than enough space to hold enough food to last until the next commercial break.
Sold by Amazon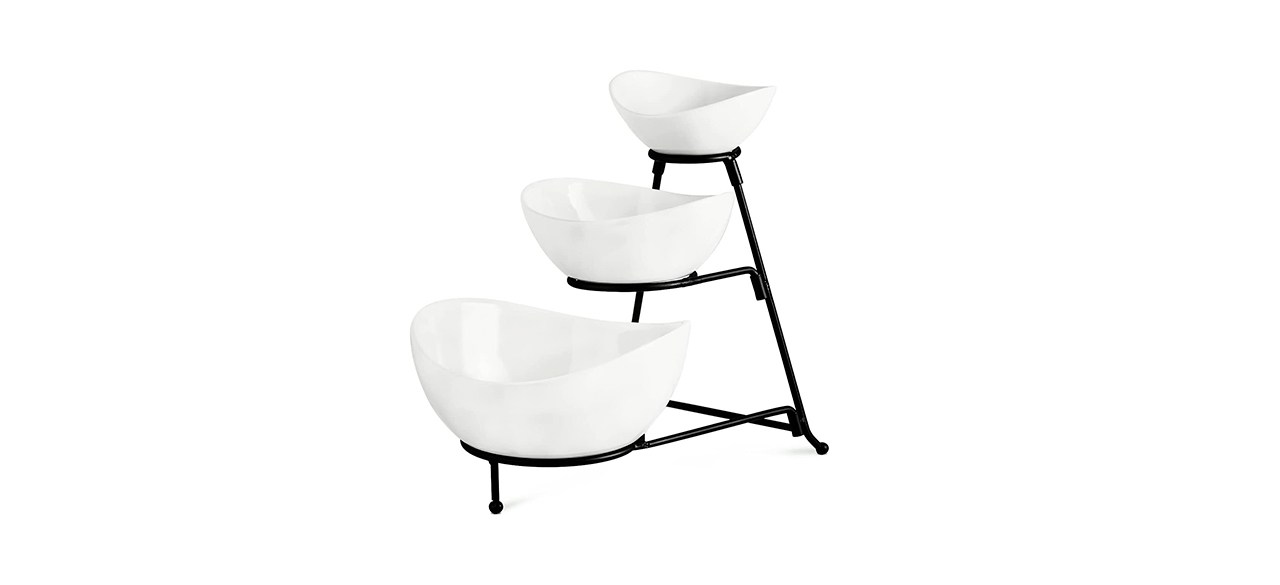 Space can be at a premium when it's time to set your buffet, and dips shouldn't be taking up more than a tiny piece of that. These tiered trays let you fit in three dips for the space of one.
Sold by Amazon
Best reusable serving platters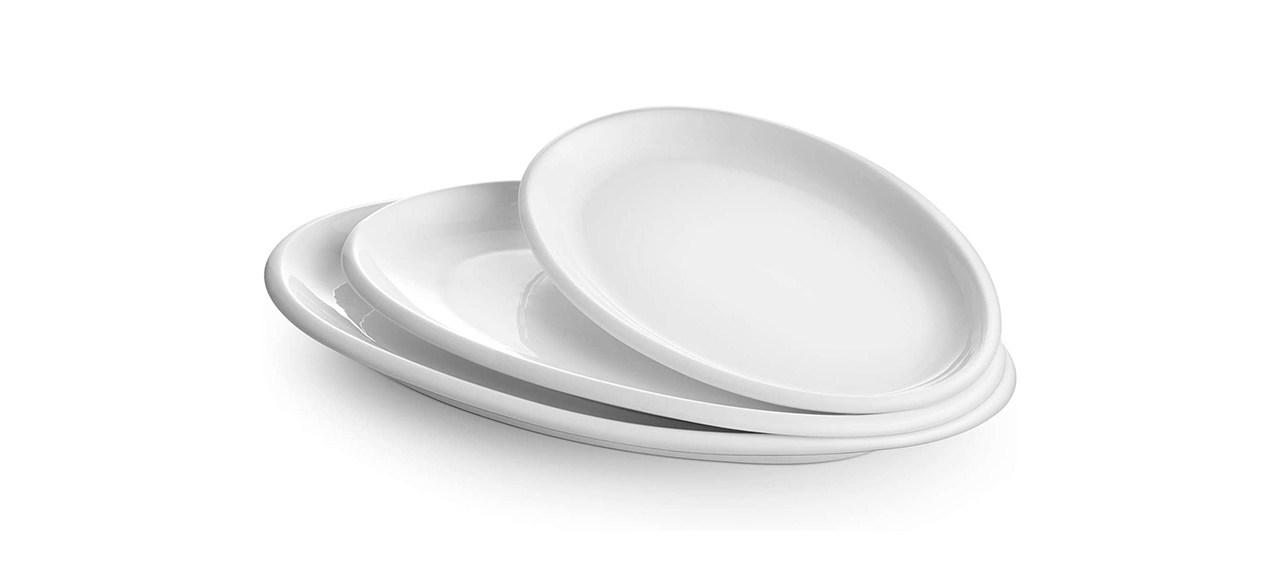 This set includes three platters with one each measuring 16 by 8.75 inches, 14 by 8 inches and 12.2 by 7 inches. They stack easily for simple storage.
Sold by Amazon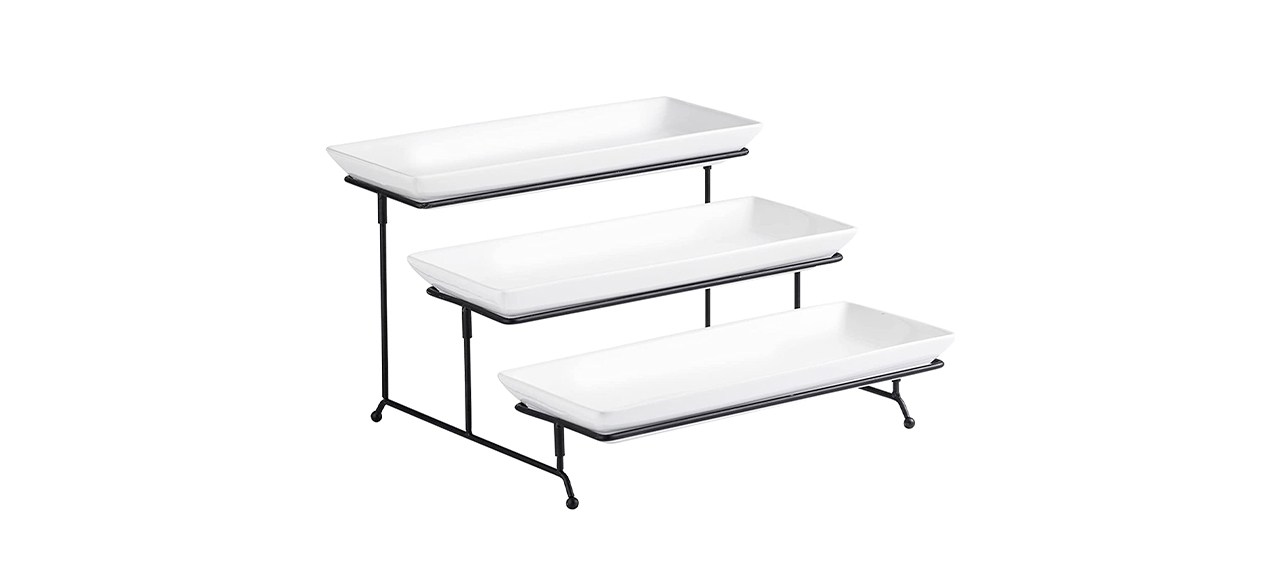 Even though Buffalo-style chicken wings are the usual standard, everyone at your Super Bowl party will have an opinion on what type of sauce is best for wings. These tiered platters let you serve three kinds without taking up much extra space.
Sold by Amazon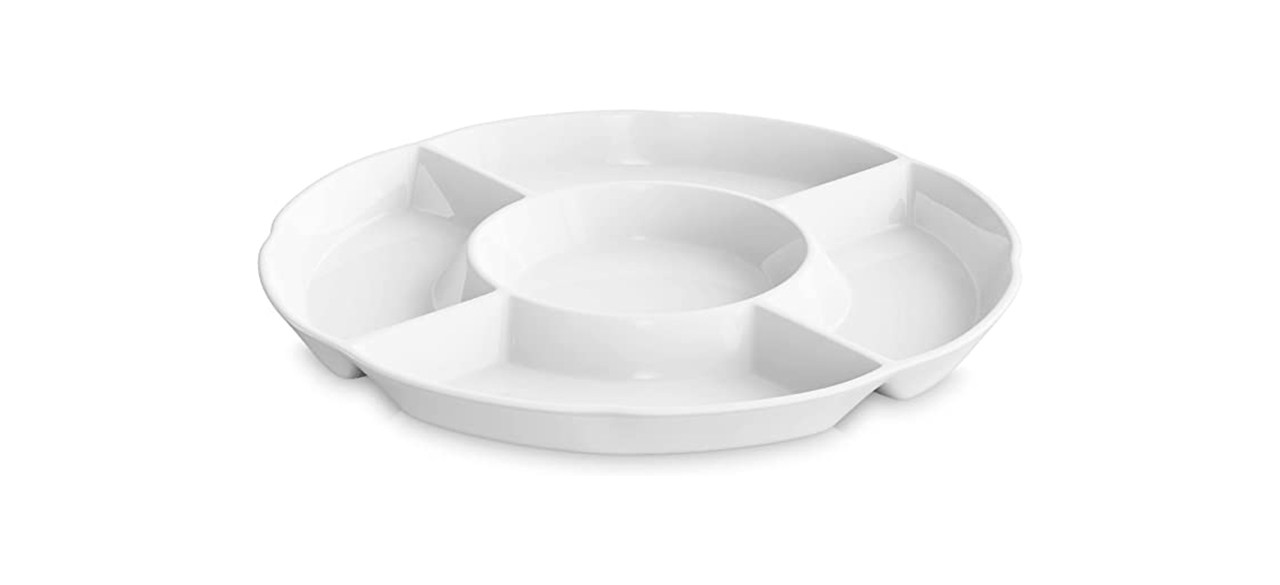 Alternative lifestyles and diets are likely to abound among your invitees, so having some vegetarian or vegan options is wise. This tray lets you display four veggies and have a central dip.
Sold by Amazon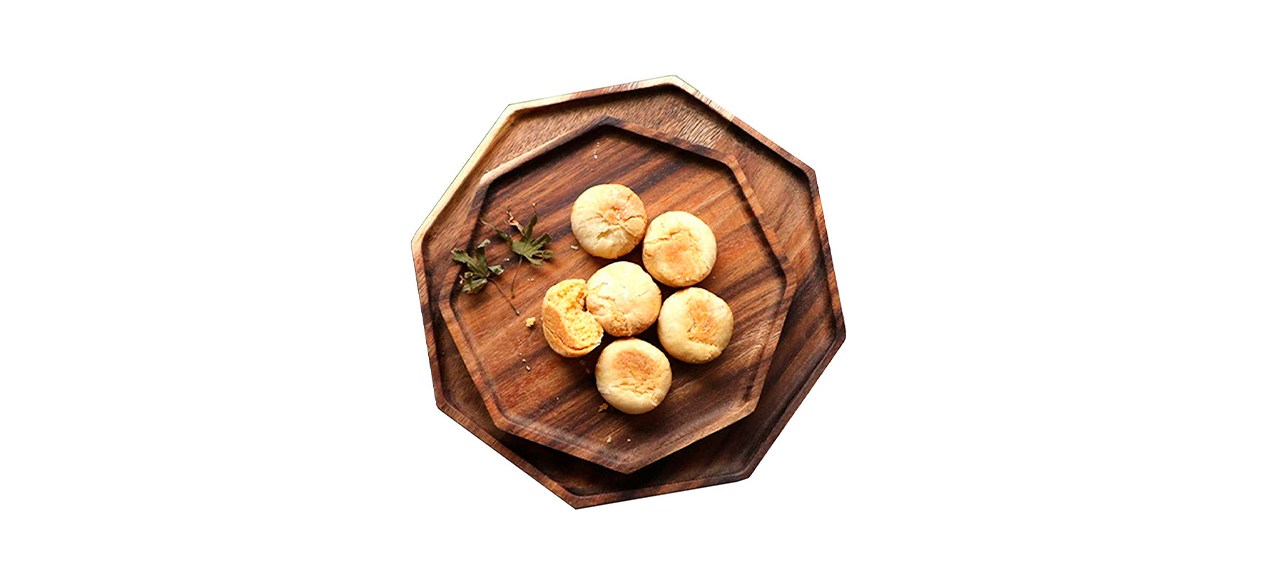 This set of two trays comes with a 10-inch tray and either an 8- or a 12-inch one. They're made of wood for a beautiful and natural vibe and are octagonal rather than just a plain ol' circle.
Sold by Amazon
Best reusable serving trays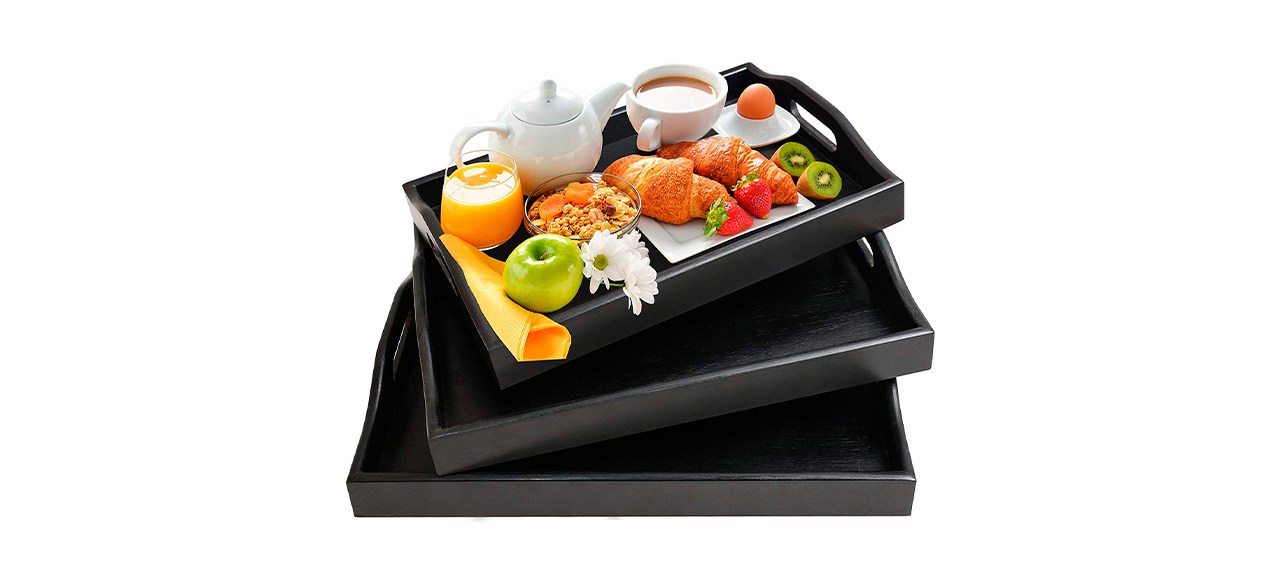 This set comes with three trays: one large, one medium and one small. They all fit smoothly together for storage, have big handles for easy moving and come in three colors.
Sold by Amazon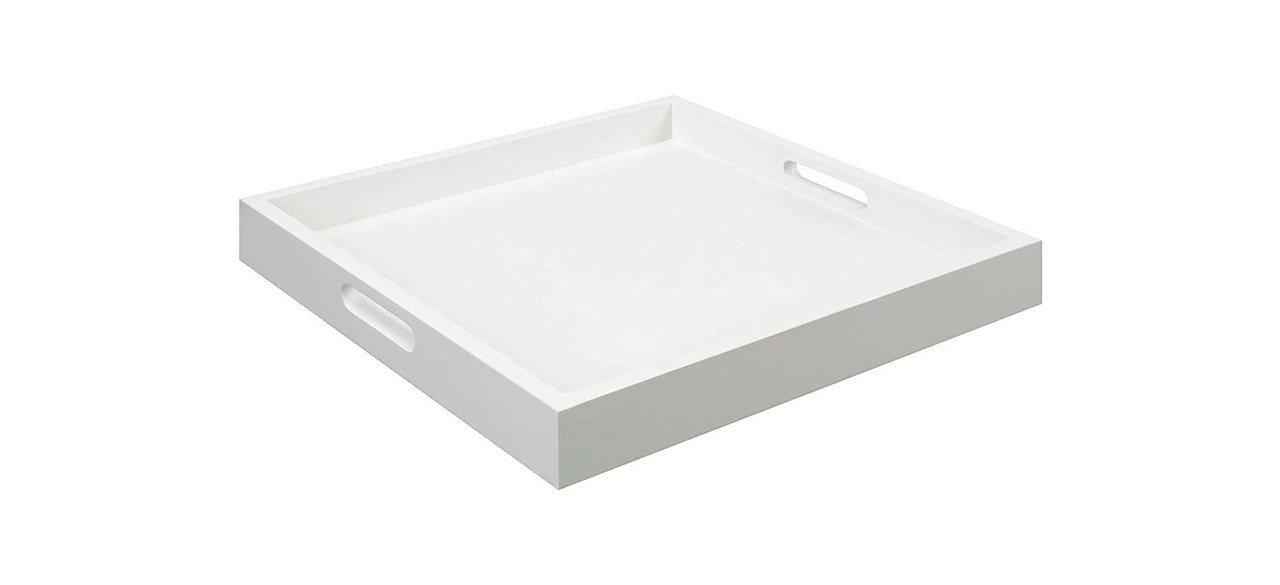 Convenience Concepts Serving Tray
This large, minimalistic tray measures 16.75 by 16.75 by 2 inches. It comes in eight colors, including yellow, blue and red, so you can find one to match your favorite team.
Sold by Amazon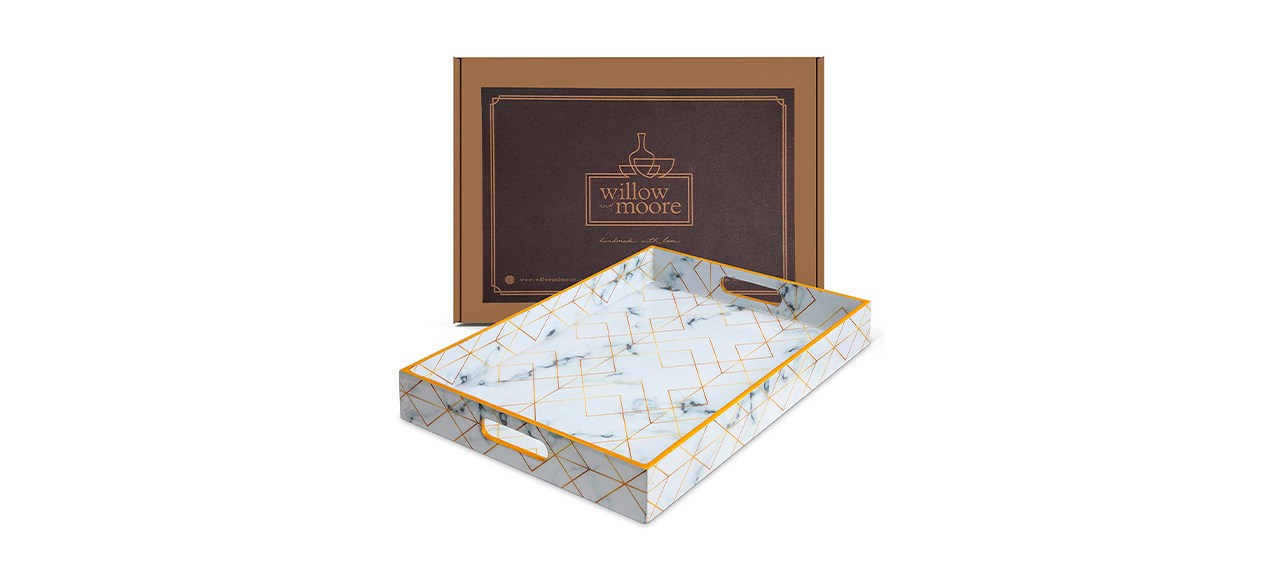 This tray is more decorative than most, making it perfect for use during many special events besides the Super Bowl. It measures 17 by 12 by 2 inches.
Sold by Amazon
Want to shop the best products at the best prices? Check out Daily Deals from BestReviews.
Sign up here to receive the BestReviews weekly newsletter for useful advice on new products and noteworthy deals.
Jordan C. Woika writes for BestReviews. BestReviews has helped millions of consumers simplify their purchasing decisions, saving them time and money.
Copyright 2023 BestReviews, a Nexstar company. All rights reserved.