This is an archived article and the information in the article may be outdated. Please look at the time stamp on the story to see when it was last updated.
ARLINGTON -- When Major Jonathan Rich went to the Dallas Cowboys game Sunday night, the commander for DFW's Salvation Army had no idea what was about to happen.
"There's no conspiracy theory," he laughed Monday. "I think he was just looking for a fun way to celebrate, but none of the rest of us knew about it."
Dallas Rookie Running Back Ezekiel Elliott scored the game's first touchdown, and only one thought went through his head.
"That bucket's just sitting right there by the end zone, so it's only right someone jumps in it," he told the media after the game.
So up and over he went into the huge Salvation Army kettle sitting beyond the AT&T Stadium end zone.
"Got a good laugh out of him coming up really slowly. It was funny," Cowboys Quarterback Dak Prescott said.
Then the combination of Sunday Night Football, America's Team, and outlandish end zone antics took its course on Social Media.
The Cowboys said Zeke was 'doing the most good', a nod to the Salvation Army slogan.
Zeke, doing the most good! #TBvsDAL pic.twitter.com/NRqSJXaCxb

— Dallas Cowboys (@dallascowboys) December 19, 2016
Then the company known for the red kettle got involved.
Zeke made an important contribution for the @dallascowboys tonight. Can you contribute to the millions in need? https://t.co/zwJrWxPYLj pic.twitter.com/12zBHxczIz

— Salvation Army USA (@SalvationArmyUS) December 19, 2016
Of course, it couldn't come without a Grinch in the form of ESPN's Darren Rovell. Not that he could bring down this spirit! Like they pointed out, this is not a time for subtlety!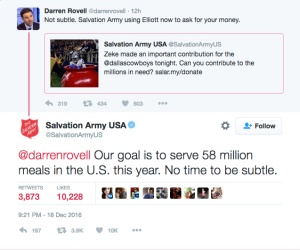 "This last week is absolutely critical," Major Rich said. "It's our most important week."
Then came a promise from Zeke.
"I'm gonna match whatever they fine me to a donation to the Salvation Army," he said Sunday night.
The No Fun League's heart must've grown three sizes because there was no fine for Zeke. He did promise a donation anyway.
Even though I will not be fined I still will be making a donation to the @SalvationArmyUS pic.twitter.com/AMJ1gSuse3

— Ezekiel Elliott (@EzekielElliott) December 19, 2016
"He's already shown his generosity, and then to say he's going to give financially as well as such a young man, he's really setting a great example," Major Rich said.
There are reports that people are already following his lead with $21 donations across the country on the Salvation Army's website.
I'm giving $21k to @SalvationArmyUS to help others. Your $21 feeds a family for 3 days. Donate at https://t.co/fSQrWCc0zJ#ZekeKettleLeap pic.twitter.com/J8zGJ7Cei3

— Ezekiel Elliott (@EzekielElliott) December 20, 2016
Doing the most good? Who knew you could with a simple kettle hop?