This is an archived article and the information in the article may be outdated. Please look at the time stamp on the story to see when it was last updated.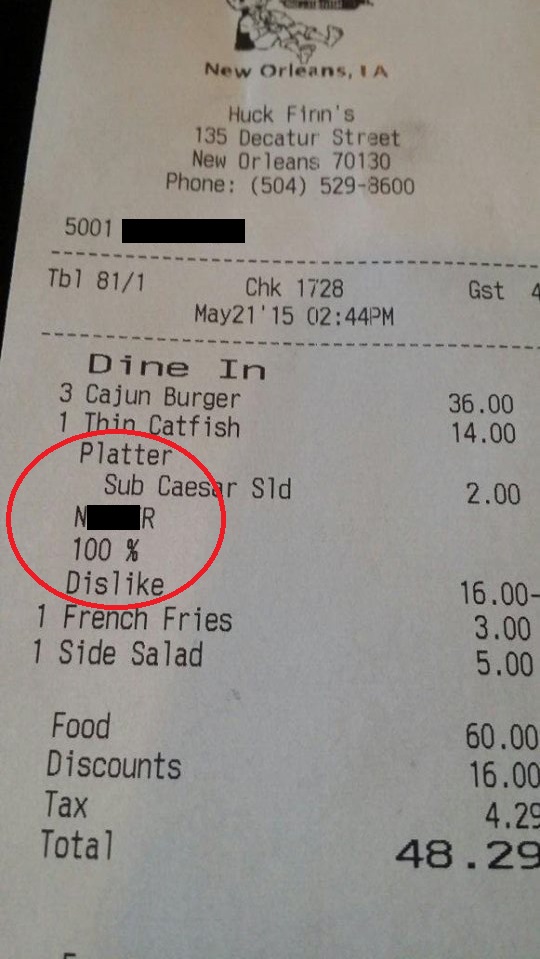 NEW ORLEANS – A big problem in the Big Easy. A woman is outraged after finding a racial slur printed on her receipt at a New Orleans restaurant.
Turns out, she's the daughter of one of The Neville Brothers. Yep, the famous musical family that's actually from the New Orleans area.
According to the Daily News, it happened at Huck Finn's Cafe in the French Quarter. The woman says when she got the bill, she saw the N-word listed. The bill also contained the terms "100%" and "dislike" underneath the slur.
Huck Finn's immediately took action, issuing the following statement:
"Huck Finn's Cafe is shocked and appalled at the actions of one of its employees, who was terminated immediately after management found out they violated company policy," the company said in a post Thursday night. "Huck Finn's Cafe is committed to treating everyone, employees and customers alike, with dignity and respect."
The original post showing the receipt garnered over 3,500 shares on Facebook.