This is an archived article and the information in the article may be outdated. Please look at the time stamp on the story to see when it was last updated.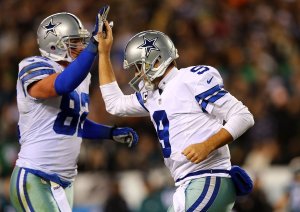 FRISCO — If you think losing your team's starting quarterback is tough, try being that quarterback's best friend.
"As a teammate, as a friend, his setback, it hurts," said Jason Witten on Romo suffering a broken bone in his back.
Yeah, you won't find two teammates much closer than Romo and Witten. They actually met each other on the Cowboys bus from the airport to Valley Ranch back as rookies, and have since turned into one of the most deadly duos in Cowboys history.
But they've also had very different injury histories. Witten is the Cowboys all-time Iron Man, playing in 207 of his 208 games. Tony has missed 24 games just in the last 6 years, and thanks to this latest broken bone, there'll be more on the way.
But don't expect his longtime tight end and friend to count him out, even after his third back injury and at the age of 36.
"Hey look, age is just a number from that standpoint. You can't allow that to get in the way of what your goals are and how you hard you work," Witten insisted. "He's had a great off season, he's built on a lot of those things. He had his best season after the back injury in 2013, going into '14.
"People are going to bet against him, that's fine, and I don't think that that's unfair to do so, but if you know what he's about, which everybody in this building does, he's going to be back sooner than expected and he'll play better than anybody ever thought he would, because I know that's what he's about."
So there's your Monday Motivation, Cowboys Nation! After all, if you trust in Witten, you can hold out that last hope for Tony and maybe a little hope in this season.