This is an archived article and the information in the article may be outdated. Please look at the time stamp on the story to see when it was last updated.
PITTSBURGH — Part of the joy of playing sports is the chance to prove that you're the best. It's the world where second place just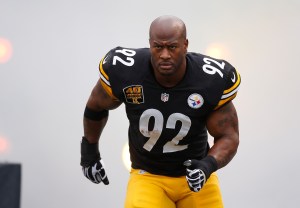 isn't good enough. Sorry, Jordan Spieth. But even Spieth is now ranked number one in the world. So actually, congrats Jordan.
It's all for the glory of holding up that shiny trophy. But now we live in an age where everybody gets a trophy.
Well, one parent isn't having it. His name is James Harrison, linebacker for the Pittsburgh Steelers. He's a guy not known for pulling punches so it wasn't a surprise when Harrison revealed his disgust when his 6 and 8-year-old sons brought home a couple of "Participation Trophies."
He vented on Instagram claiming he was sending the trophies back until his sons earned real trophies. He says it's a lesson that nothing is handed to you in life.
No word on how Harrison's kids took the news, but now they know in the Harrison household, you either place or leave that trophy alone.