This is an archived article and the information in the article may be outdated. Please look at the time stamp on the story to see when it was last updated.
DALLAS — It's been less than a year since we said, "goodbye" to William Blair.
He's best known in Dallas as the founder of Elite News, a key voice in the Black community. But that was just one of many contributions.

Blair was youngest African-American First Sergeant in World War II. He pitched in the Negro League, throwing a no-hitter in 1947.
"When he played sports he competed against, you know, bigger guys and he took pride in the fact that he competed with them," said Darryl Blair, William Blair's son.
His next step was publishing. The Southwest Sports News shined the spotlight on Black college games across America that didn't get attention anywhere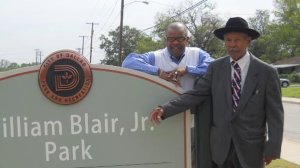 else.
That paper eventually became what we now call Elite News.
"My dad, he loved this city, he loved what this city offered," Darryl Blair said. "He loved the opportunities that this city offered and he always wanted to help people."
He and the paper created Dallas' Annual MLK Parade.
Councilmember Dwaine Caraway paid tribute at Blair's funeral in 2014.
He has to be the greatest historian that has ever walked in the streets of the City of Dallas," Caraway said. "He could recall every single story."
Dallas named a park after Blair in 2011. A lasting tribute to the man who shined a light on Dallas's Black community.
More Black History Month Stories