This is an archived article and the information in the article may be outdated. Please look at the time stamp on the story to see when it was last updated.
Okay, let's get real.  No one likes driving on ice-covered, white-knuckle, hope-you-don't-slip-and-slide slick streets.  But now, it looks like the wintery remnants are driving concern for some people.
"One of the new tools we've been using is the 'brine' material.  It's a liquid, salt, and water combined," Michelle Reneford from TX-DOT explained. "And then when enough precipitation comes down and we do have a layer of ice, then we come back with the salt and sand mixture, for traction and to help melt the ice."
While all that salty stuff is good for keeping traffic moving safely, some are worried it could put their car in the fast lane to corrosion and other damage.
Before you panic though, let's just pump the brakes.
TXDOT says its salt-and-water "brine" is no more corrosive than more traditional treatments.  A local mechanic NewsFix spoke to also said that the salt mixtures don't pose a threat to cars around here.  He says most undercarriages are already coated with a protectant, so damage is highly unlikely.
Say it isn't snow!
Well, lesson here folks: Don't let rumors gain mileage — and a simple wash can go a long way.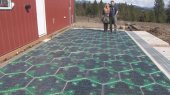 Solar Roadways: High-Tech Highways a Possibility Down the Road