This is an archived article and the information in the article may be outdated. Please look at the time stamp on the story to see when it was last updated.
WASHINGTON, D.C. — Thousands turned out Sunday to celebrate the 20-year anniversary of the Million Man March. But it's who was missing that has folks calling for a boycott.
A day designed to bring attention to oppression in communities across America attracted everyone from Michael Brown's father to rap artists like J. Cole. But what people are asking now is — why was BET… MIA?
The network that's based on black entertainment television was allegedly nowhere to be found.
So, in true social media fashion, the Twitter-verse blasted BET  for not producing any live coverage on the day of the event, especially since their headquarters is in DC.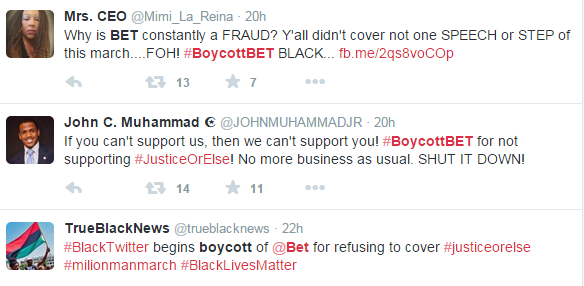 In BET's defense, we checked out their website and did find some stories on the Million Man March event. But according to user comments, it was still "a day late and a dollar short."
Some people are asking viewers to boycott BET, starting with Tuesday night's BET Hip Hop Awards, which was actually taped last Friday in Atlanta — the day before the Million Man March in DC.