This is an archived article and the information in the article may be outdated. Please look at the time stamp on the story to see when it was last updated.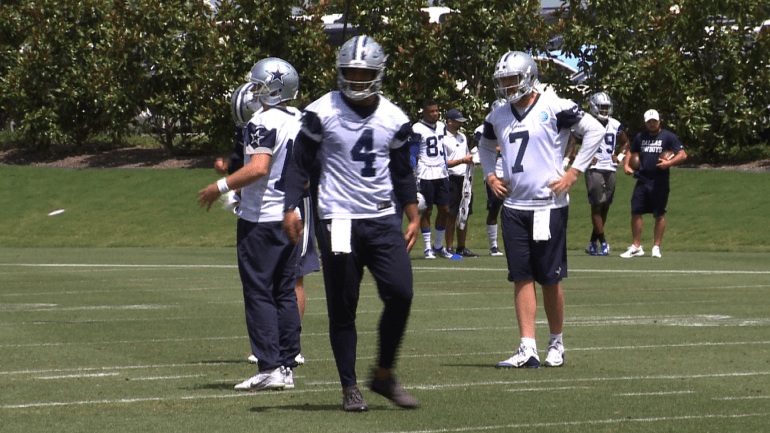 FRISCO — The Cowboys kicked off Mandatory Mini-Camp today, the last stop on the offseason program before things get real next month at Training Camp.
But already there are some real questions to be answered: mainly, now that Dak is this team's starter, who's the backup?
Right now three QBs are gunning for the backup job: Kellen Moore, Zac Dysert and rookie Cooper Rush.
"We've done what we think is the right thing for our football team in a given year based on who's available to us," head coach Jason Garrett said of his backup quarterback situation. "Whether it's on our team or on other teams, we evaluate the situation at that position like we do any other position and try to put the best group of guys together."
Right now Moore would be the favorite, mainly because he's the only one of the three to ever take a regular season snap!
"When he's on the field the chains move and that's what you want," offensive coordinator Scott Linehan said, talking about Moore. "He's really smart, really works hard, he's always prepared and that's what you want from a guy that's in that position."
The Boys should know how important the second stringer is since in 2015 their season fell apart without a good backup and in 2016 Dak led them to 13 wins when he took over!
Of course, there's always the chance the team's true backup plan isn't on this field at all, but in the CBS broadcast booth. Could a disastrous injury bring Romo back? Well, let's just hope Dak stays healthy all the time and we never do have to find out what the Boys' true plan B is.