This is an archived article and the information in the article may be outdated. Please look at the time stamp on the story to see when it was last updated.
DALLAS--With medical marijuana and even recreational pot becoming legal in more and more places could Texas be next?
That's what folks who were rallying in Downtown Dallas Saturday are hoping for.
They're from NORML--the National Organization for the Reform of Marijuana Laws.
"We've been around since the early 70's working for full legalization of cannabis throughout the United States and some other places in the world," said David Sloan, a spokesperson for NORML.
They want the Lone Star State to whack the weed laws. They've even got a small-town Texas mayor on their side.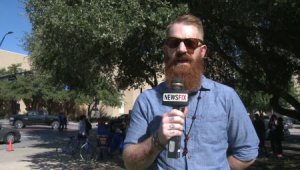 "I'm a veteran," Whitewright mayor Jeremiah Looney said. "I was in the United States Army for six years."
Yeah, we've told you about him before. He shook things up earlier this year in Whitewright when he revealed medical marijuana eased his PTSD after he served in Iraq.
"While I was taking all the medication, it led me to find cannabis and whenever I did it, it started helping me a lot more than all the medications did," Looney said. "I just vowed to fight for veterans with PTSD and traumatic brain injuries like myself, the option of using cannabis to medicate."
NORML's website says it's "high time" to get involved.
We'll just have to see if they can find a way to get Texas lawmakers to join the party.