This is an archived article and the information in the article may be outdated. Please look at the time stamp on the story to see when it was last updated.
ARLINGTON, Texas — It's the two words that let you know your season is in big trouble: Quarterback Controversy. Yeah, after the Cowboys offense was completely shut down by the Patriots, fans want the bench for Weeden!
"I want to see Matt Cassel start at quarterback. I think he's got a little more experience over Brandon Weeden," one fan told NewsFix.
"We need to get Cassel in there as the quarterback. Give him a shot. Weeden is not the guy," said another.
Still others had more innovative ideas,"Well, I wish they'd put pads on Garrett, put him back out there! I think he'd be alright!"
Hey, Coach Garrett still has a cannon for an arm, but we're not sure the 49-year-old former backup could take the hits.
But the focus is definitely on Matt Cassel, the QB Dallas traded for after Romo's injury. Cassel does have a much better resume than Brandon Weeden, who has now lost his last 11 starts.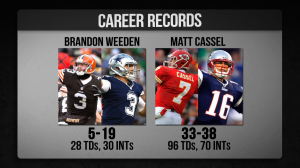 Weeden didn't want to talk about the possible controversy after Sunday's loss, "Those are their decisions. That's what their role is. My role is to play football and be ready, so I'm going to prepare like I always do."
As for the Cowboys, well, they're in a wait and see mode with their Bye Week coming up.
"I don't want to get into the whole thing," Coach Garrett said Monday. "We're going to evaluate our quarterbacks, we're going to evaluate our offensive line, we're going to evaluate our tight ends, our receivers, our running backs, everybody on defense and everybody on the kicking game."
That may all be true, but you better believe all anyone will care about is who is taking snaps when the Cowboys break the huddle against the Giants.
Hey, nobody is gonna fill Romo's shoes, but luckily for whoever takes the reins in two weeks, they should have Dez Bryant back.
Hopefully, that'll be enough, or else by the time Romo gets back, there might not be much of a goal left.