This is an archived article and the information in the article may be outdated. Please look at the time stamp on the story to see when it was last updated.
NORTH TEXAS--It's the store we most love to hate.
Nope. Not Walmart.
Sure, they've made some small-town enemies, but a lot of us just can't tear ourselves away from those low prices.
And what would the internet be without them?
It was a good guess, though. Walmart came in at number two on this list.
The retail store with the lowest score on the American Customer Satisfaction Index is... Abercrombie & Fitch.
That could be really bad news for the company that's been trying to fix its image.
They're getting away from the nearly-naked models in their ads. And they're embracing diversity.
That's if it's not too late.
Kohl's fared better in the survey, but not in their financial results.
They're expecting a drop in sales for the year and they're planning to close 18 stores.
One store in Plano has already closed.
So if shoppers are making their way to the exits of retail stores, where are they buying stuff?
You had to ask?
We're all about online shopping.
In fact, there are reports Amazon is looking for two new warehouses in North Texas, on top of the two it already has.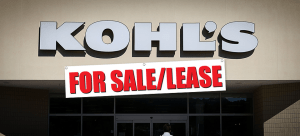 We know an empty building they could use!