This is an archived article and the information in the article may be outdated. Please look at the time stamp on the story to see when it was last updated.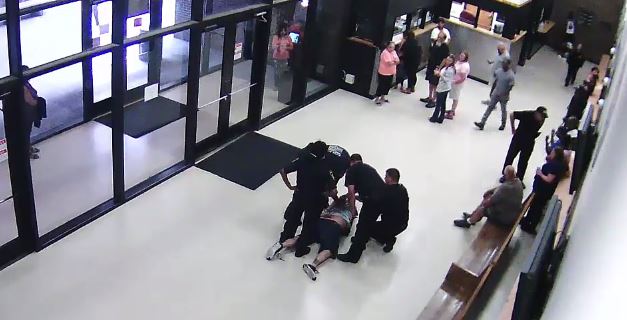 DALLAS — For 28 days, the family of Joseph Hutcheson has wondered what really happened after he ran into the Dallas County Sheriff's building screaming for help. The only thing they knew for sure —  Hutcheson was dead a little while later.
Friday, they finally got to see security camera video. It's video they hoped would provide answers.
CLICK TO SEE FULL UNEDITED SURVEILLANCE VIDEO
In the video, you see Hutcheson moving around the lobby. At one point, a deputy restrains him and wrestles him to the floor. Other officers join in, holding Hutcheson down.
Soon, the deputies are seen performing CPR on Hutcheson until it's obvious that he's dead.
Sheriff Lupe Valdez didn't comment further on the video, saying the investigation is still underway.
Hutcheson's wife, his mother and the family's lawyer saw the video before it was released to the media, but they weren't ready to talk about it.
Reverend Jeff Hood of Hope for Peace and Justice has been working with the family through the ordeal. After viewing the video, he told NewsFix, "This was a guy who was having a medical emergency. He was treated sub-human, like a piece of trash. We need an outside investigation."
So for now, there are no clear answers about how Hutcheson ended up dead after running into the building. We'll have to wait for toxicology reports to tell us more.
And for Joseph Hutcheson's family, the wait goes on.