This is an archived article and the information in the article may be outdated. Please look at the time stamp on the story to see when it was last updated.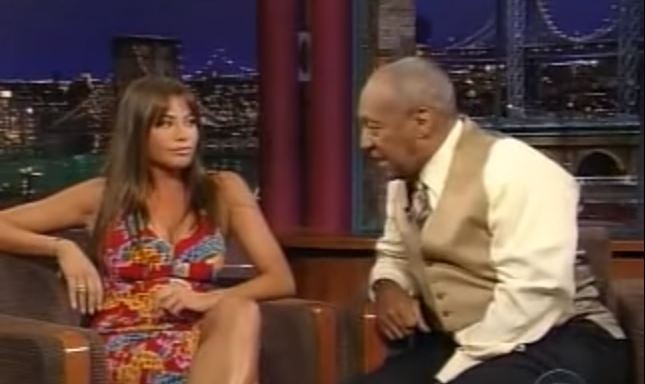 NEW YORK CITY —  If there are ghosts in your past, please believe the Internet will uncover them. Case in point, video of Bill Cosby getting creepy with Sofia Vergara 12 years ago.
It's almost unbearable to watch.
Cosby was guest hosting on The Late Show with David Letterman in 2003, long before "Modern Family," when Sofia Vergara made her first appearance on American television.
"Men look at you, and they only think of sin," Cosby told Vergara, who had an uncomfortable look on her face. "Now what you have on tonight is wonderful. This is wonderful. And when you walked out, many, uh, many people became attentive."
Attentive, eh?
"You make me feel young again. You make me feel, uh, very excited," Cosby said.
When talk finally turned to the reason why Vergara was on the show — to promote her new movie "Chasing Papi" — Cosby asked, "Who is Papi?" Well, he didn't like her explanation, so he offered a scenario of his own.
"This is reality TV. Let me explain.  First he starts with 25 (women). This is reality. And then, he's Firestone. His name is Firestone. They don't know that he is worth $473 million."

"Where is he?!" Vergara jokes.

Cosby responds, "Too late, he's in reruns."
Well, this definitely takes on new meaning with Cosby being accused of sexually assaulting more than 50 women dating back to the 1960s.
Now Sofia Vergara is slamming rumors that she's one of his victims.
"Respect people. Stop making up nonsense," she tweeted in Spanish.
Respeten a la gente. Dejen de inventar bobadas. https://t.co/ri8okU46rH

— Sofia Vergara (@SofiaVergara) October 24, 2015
In a now-unsealed deposition from 2005, 78-year-old Bill Cosby admitted giving drugs to women he wanted to have sex with. He has never been charged with a crime.