This is an archived article and the information in the article may be outdated. Please look at the time stamp on the story to see when it was last updated.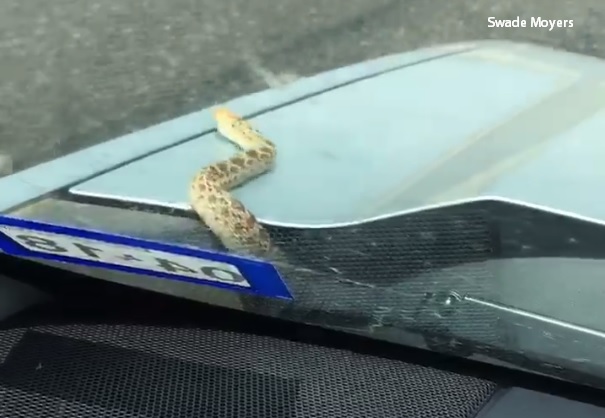 LUBBOCK COUNTY – Two men who apparently DO NOT LIKE snakes unknowingly picked up a hitchhiking bullsnake Monday on Texas State Highway 114 and, like we all know to do in super scary but safe situations, they recorded their encounter on cell phone video.
Swade Moyers and Zakary Wyatt were in west Texas headed to Lleveland, in Lubbock County, when the snake peeked out from under the hood — and then kept coming.
Moyers said on Facebook, "So today me and Zakary were driving to Lleveland to check on a project and we found out we had a friend under the hood!"
Anyone with doubts about whether there really are west Texas men who are scared of snakes will lose all doubts after listening to the pair tensely deal with the situation as the snake slithers up onto the hood of their pickup truck and terrorizes them.
These two have obviously experienced their share of snakes-are-scary folklore, and most of their dialogue is what horror movies are made of.
When a story starts with "What the hell??" and has a middle with "Swade, he's not leaving the truck, man. He's going back in!" and "No, no, no!" before ending with **Series of high pitched screams** well then, you've got box office gold.
Lots of twists and turns in this drama as the snake curls one way and another while flicking its tongue and considering its options, then is suddenly whipped up toward the windshield — not once, but twice — and the loud shrieks you hear from the two men are high-pitched and hilarious. (But not at the time, we get it.)
Moyers offered a synopsis of the adventure with hashtags added to his video caption, "#snakeonatruck #ihatesnakes #iamabiggirl #zakisabiggergirl"
He posted the video to Facebook a few hours after the adventure; so far, it's been viewed nearly 50,000 times.