This is an archived article and the information in the article may be outdated. Please look at the time stamp on the story to see when it was last updated.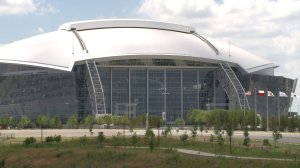 ARLINGTON — The big news from the Texas-UCLA game wasn't on the field (the Longhorns fell 20-17), but in the stands.
A Texas fan, who has yet to be identified, fell over 10-feet from the first row of the 100-section, into the field level suites. NewsFix talked to his friend, who requested not to be identified. He told us his friend is still at John Peter Smith Hospital in Fort Worth. His friends are hopeful for his full recovery.
The man tells us he was with his friend, and other UT alumni from North Texas. We're told the victim simply lost his balance, and fell over the railing. He was reportedly conscious when he was transported by stretcher, out of AT&T Stadium.
NewsFix reached out to the Cowboys and AT&T Stadium. The organization said it did not have a comment, and referred us to the Arlington Fire Department.
This unfortunate incident brings back bad memories of similar cases at neighboring Globe Life Park . In 2011, a man fell down a flight of stairs at a Rangers game.
Then, later that same year, who could forget firefighter Shannon Stone who died after falling 20-feet over a railing. Stone was trying to catch a ball thrown by Josh Hamilton. The incident resulted in higher railings and other changes at the ballpark.
Let's hope the UT fan makes a full recovery, so he can cheer on his Longhorns soon.