This is an archived article and the information in the article may be outdated. Please look at the time stamp on the story to see when it was last updated.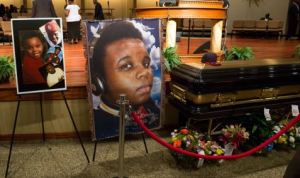 (CNN) — A company behind the video messaging service that allegedly captured audio of Michael Brown's shooting this month said Thursday the recording was created at about the time Brown was killed.
The revelation from the company, Glide, appears to bolster a man's claim that he inadvertently recorded audio of gunfire at the time the 18-year-old Brown was shot and killed by a Ferguson, Missouri, police officer on August 9.
Listen to the Recording – Sound Evidence? FBI Analyzing Audio in Michael Brown Shooting
The video was created at 12:02:14 p.m. that day, Glide said. That's around the time that police say Brown was shot.
CNN cannot independently verify the authenticity of the tape.
The sounds could be a piece in the larger puzzle of what happened in the moments before the 18-year-old's death. The FBI obtained the audio and interviewed the man who made the recording, said Lopa Blumenthal, a lawyer for that individual.
CNN has asked the FBI for confirmation of that interview.