This is an archived article and the information in the article may be outdated. Please look at the time stamp on the story to see when it was last updated.
DALLAS -- Remember Laterras R. Whitfield?
His outreach web series, HomeBless Life, is talking the talk and walking the walk for the homeless in Dallas and beyond.
Saturday, though, he played a supporting role.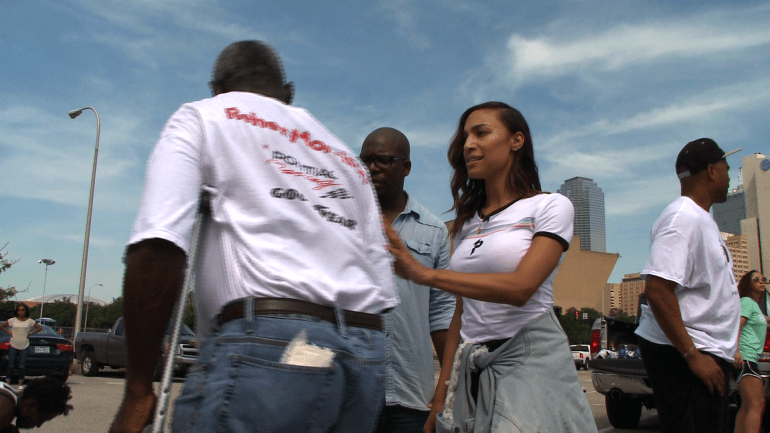 "Today we're going to shine the spotlight on Turning Paiges," Whitfield said Saturday in downtown Dallas. "Meet Tristen Paige."
From fit for a King...
"Bron Bron's!" one man shouted as he kicked off his old shoes.
To his His Airness himself...
"I got some camo Jordans, I got some Nike socks, and I'm happy," homeless man, Gilbert Hernandez laughed.
For Tristen Paige, nothing is too good to give away.
"We're not just going to give you what's leftover," she said. "We're going to give you something brand new, and we're going to show up and see you and meet you and be present with you in that moment."
A victim of domestic violence, Tristen started her outreach, Turning Paiges, to help both herself and others by cultivating a sense of community.
"I think it just helps when you know that you're not alone, and I think part of us showing up is just to remind people that they're not alone," she said.
More than 100 got the message Saturday with their feet and their feelings.
"It means a lot to me because I didn't have no money to get none," Hernandez said, holding back tears. "It means a lot."
Hernandez has been on the street for six months.
"You ain't got nowhere to lay down. You're cold, hungry," he said.
That's why Saturday was truly a blessing for him.
"I feel like I was at the right place at the right time today," he said, looking down at his new Jordans.
And as much as it was a blessing for the homeless, it was for the Turning Paiges team too.
If you have an outreach that helps the homeless, let us know! Send us an email: newstips@cw33.com