This is an archived article and the information in the article may be outdated. Please look at the time stamp on the story to see when it was last updated.
DALLAS -- It's T-Day in Dallas. That T's for Trump. And all over the city, folks are getting ready to cheer or jeer the  billionaire turned reality star turned Republican presidential front-runner.
"We're excited about Donald Trump. He's not afraid to speak his mind," supporter John Rhodes told NewsFix.
"He needs to learn how to respect women," a protester said.
At the American Airlines Center, supporters showed up hours early to be first in line for Donald Trump's sold out rally.
"We thought we better get on down here and we did and we are the second people in line," Rhodes said. "It's alright though we are making new friends."
And count Mavs owner Mark Cuban as a Trump fan. Cuban tweeted to Trump that he'll "crush it" tonight.
But plans are all set for a "Dump the Trump" protest as well.
@newsfixdfw My view downtown Dallas! People were still arriving! #TrumpDFW pic.twitter.com/JUnOzhN1wA

— HipStars Ent. (@HipStarsEnt) September 14, 2015
"It will be the largest demonstration against Donald Trump since the presidential campaign started," said protest organizer Domingo Garcia. "And that indicates how divisive he has been and how much his comments have been hurtful to large segments of our community."
And yes, what would a protest be without pinatas?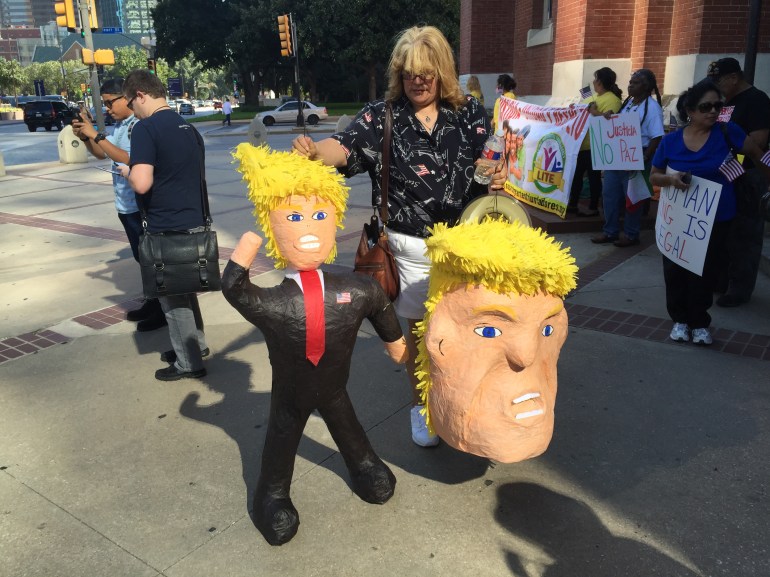 There may not be a big top tent, but it looks like the circus has certainly come to town.