This is an archived article and the information in the article may be outdated. Please look at the time stamp on the story to see when it was last updated.
BRAZIL -- It's great to travel the world but you have to be safe out there, especially if traveling alone. In this edition of Travel Fix Drew fills us in on the best ways to make sure you and your belongings come back in one piece.
"So my number one travel tip, safety tip for traveling alone is to make sure that your phone is working," says Drew. "A lot of times when you travel abroad your Verizon or AT&T or Sprint is not going to work so you need to either get a local SIM card or make sure that you deal it out with your local provider. In case you get into an emergency situation, you need to be able to call someone, you need to be able to look something up, it's really, really helpful."
He advises to keep at least two must-have apps handy, one is Google Maps.
"Basically, anywhere you go around the city the little blue dot will track you, your location," explains Drew. "This is very helpful if you jump in a taxi by yourself and you don't know where the taxi driver's taking you because obviously, you're new to the city, you can follow him around to make sure he's taking you to your hotel. I use that every single time it's really helpful."
The other app to have in your repertoire? Uber of course! "It's cheaper and safer than using any regular yellow taxi, standard taxi. I can't tell you how many times it's saved me in South America," says Drew. "Every time I jump in an Uber I feel comfortable with the driver because you know who the driver is, you can look on the app and you're also backed up by Uber in case something goes wrong."
Another tip? Stop weighing your pockets down with all that cash! "When you're out, out of your hotel or apartment, only bring cash that you need to spend...Like right now if I'm going to go outside I'm only going to bring $20 worth of Brazilian money with me."
But even an expert traveler like Drew has had his close calls, "I saw this guy, he was a street performer but he was going around and talking to people and then another buddy of his was stealing stuff inside of people's pockets...I saw him doing that and he came up to me and tried to talk to me and I just pushed him away."
Bottom-line: Drew says have a good time but be aware of your surroundings, "It depends on which country you're in and which city but you always have to be careful."
If you want to check out more of Drew's travels and tips you can visit http://cw33.com/tag/travelfix/ or find out where he is right now by adding him on Snapchat.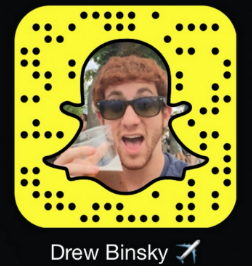 Happy traveling!