This is an archived article and the information in the article may be outdated. Please look at the time stamp on the story to see when it was last updated.
SCOTTSDALE, AZ - It's hard to become a world traveler if you don't know how to pack. That's why on this episode of Travel Fix, Drew's going to give you the basics of how to bring everything you need without having to pay those annoying check-in fees.
We caught up with Drew in Scottsdale, Arizona.
"I'm headed to South America for 3 months and I am currently packing right now so I'm going to tell you guys what I'm bringing with me," he said.
Drew says he carries only two bags: one big bag for his clothes and toiletries then a backpack to carry his computer and other electronics,
"I focus on carrying really light material clothing," he said. "If you're bringing all these heavy materials or jeans and stuff it just takes up too much weight in your back."
You might be surprised to find out what's Drew's most prized possession on his trips; a towel!
We know, random. But he says you might need it more than you think.
"A microfiber dry fit towel. It's really light weight, it weighs like a quarter of a pound. You can use it to wash your body if there's no towels available and then you can hang it up and in 10 minutes it dries," he said. "You can find them online, Amazon, 15 bucks. This is like my number one travel tip I would say."
But Drew says the main goal is to pack as light as possible to avoid having to check-in any luggage."I never pay to check a bag, first of
"I never pay to check a bag," he says. "First of all, I don't want to wait for it at the airport, I don't want to pay the money and then it's risky. What if the airline loses your bag and then you're stuck without bags? If you can carry it on you save a lot of money and time."
If you want to check out more tips from Drew you can visit http://cw33.com/tag/travelfix/ or find out where he's at right now by adding him on Snapchat @drewbinksy.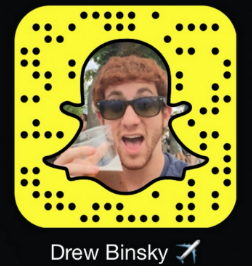 Happy traveling!