This is an archived article and the information in the article may be outdated. Please look at the time stamp on the story to see when it was last updated.
COLOMBIA, SOUTH AMERICA – Traveling the world can be hard work but it can be even harder if you don't know how to communicate with the locals so this week Drew's here to give you tips of how to get over that frustrating language barrier.
"Everywhere you go in the world it's going to be different challenges. In Asia for example when you can't even read the alphabet, Chinese or Japanese, it's almost impossible to figure out. You can learn like one, two, three words but other than that you just have to use body language and hopefully they can speak a little bit of English."
But Drew says communication can be easier in some non-native English countries compared to others, "Like Latin America…I think even if you don't speak Spanish you know more than you think you do because a lot of the words are the same and some of the sentence structure is similar. I'm actually lucky, I can speak Spanish good enough to communicate so that's how I get around, but honestly, everywhere I go in the world people speak a little bit of English at least enough to communicate basic stuff."
Although Drew has a helpful tip that'll help you get by no matter which country you choose to visit.
"I always try to learn 10 words in every language. Simple words like yes, no, please, thank you, my name is, where's the bathroom? Like really common sentences because those can help you out a lot. Especially 'thank you'. That's the most important word. You should always want to be polite, say thank you to people," says Drew.
But don't forget, technology is always on your side.
"I do use this one app, it's called Duolingo," explains Drew. "It's free and then it has 10 or so languages that you can choose from to learn and it's kind of like Rosetta Stone where it takes you through these classes…so that's been helping me a little bit with Spanish."
In the end, Drew believes that getting over the language is really all about y-o-u.
"You have to be active, you've got to want to learn a language. If you come here and you don't care at all, you don't have any motivation but if you really want to learn then it's not that hard."
If you want to check out more tips from Drew just visit http://cw33.com/tag/travelfix/ or find out where he's at right now by adding him on Snapchat.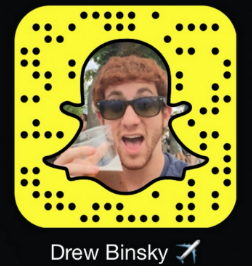 Happy traveling!