This is an archived article and the information in the article may be outdated. Please look at the time stamp on the story to see when it was last updated.
ST. LUCIA - Drew likes the Caribbean so much he can't tear himself away. We catch up with our world traveler at the end of his 5-week stay.
"Last time we spoke I was in St Lucia. I've spent most of my time here on this island but I hopped around to some other neighboring islands. I went to St. Vincent and then Grenada and then Guyana. Guyana is actually in South America but it's a one-hour plane ride away. It's super close and it's a pretty similar culture to the Caribbean Islands."
But this time of year brought dangerous conditions, "It's not tourist season now. Right now it's hurricane season" explained Drew. Uninvited guest Hurricane Matthew proved to be a force to be reckoned with.
"When it hit here, one person died on this island. So the reason why you shouldn't travel to the Caribbean during this time or why I wouldn't recommend traveling here is because it's hurricane season, which means a lot of the resorts and places are shut down, a lot of the hotels are shut down. The benefit to traveling here during that time is everything's cheaper and you don't have to worry about tourists being everywhere. It's whatever you prefer but if I were to give you advice I would say come in November, December, January. That's peak season."
Drew didn't let the weather spoil his plans as he visited Guyana. "Guyana's an interesting country. It's next to Venezuela and Suriname in South America."
"Really not much to do there but there was one golf course so I was like, 'AlL right!' There was nobody there and then this dude came out of nowhere and he's like 'Hey you want to join me? I'm the caddy here.' "I was like 'Yeah, let's do it." So I played 18 holes with him and he made me some food at his house, pretty cool experience."
Even though the locals speak English, they also speak a version that can leave tourists a bit confused. "It's called pidgin English. It's basically English but it's broken down words and then they put phrases together. So like if we're going to say something that's two sentences long they'll say it in like four words."
In the end Drew gives his stay in the Caribbean a thumbs up. "The Caribbean Islands is a really nice place to visit. It's very close to the States so it makes it more affordable than other Southeast Asian countries. I highly recommend it."
If you want to check out more of Drew's travels and tips just click here or find out where he is right now by adding him on Snapchat.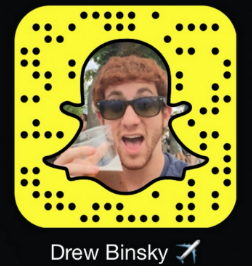 Happy traveling!