This is an archived article and the information in the article may be outdated. Please look at the time stamp on the story to see when it was last updated.
LA PAZ, BOLIVIA – We catch up with Drew on his journey through South America as he makes a quick stop in Bolivia, "I've traveled through Peru for two weeks and then I've been in Bolivia the last week. In Peru, it was really cool, I went to Machu Picchu which I'm sure many people know what it is. It's one of the 7 wonders of the world. It's a really old city built by the Incas like 600 years ago and it's in this really tall mountain in the middle of nowhere."
Along the way Drew's come across some pretty crazy cuisine, to put it tamely.
"I actually tried eating llama because there's a lot of llamas everywhere around here so I thought it'd be kind of interesting. It pretty much tastes like beef but it's more chewy, it's more hardy meat…I also tried a really interesting food that a lot of vegetarians won't like to hear…They eat Guinea pigs here believe it or not."
But there's also been some dangerous adventures this time around, as Drew took on the country's famed 'Road of Death', "It starts at 15,000 feet elevation then goes down to 4,000 feet elevation through the countryside of Bolivia…The road is as wide a car or a truck and if you fall off it goes down 2,000 feet, straight down."
Just in case you think we're overstating the inherent danger of traveling off the road, Drew says there are frequent reminders of how much you're risking your safety along the way, "You see all these little crosses on the side of the road for all the people that died…Apparently 300 people a year die on this road."
Drew explains that he was definitely more than a little worried while on the trail, "If the tire goes off the edge, I'm going to die. One of the only times in my life that I actually thought I was going to die."
But now he has one heck of a story to share for ages, "One for the memory books, that's for sure."
Yeah, we'll say! Be careful, we need you to stick around man!
If you want to check out more tips from drew you can visit http://cw33.com/tag/travelfix/ or find out where he's at right now by adding him on Snapchat.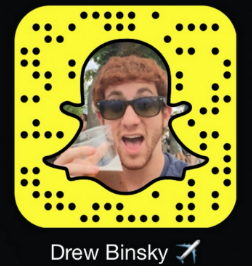 Happy traveling!