This is an archived article and the information in the article may be outdated. Please look at the time stamp on the story to see when it was last updated.
SCOTTSDALE, AZ - If you're traveling on a budget then it makes sense to know where the cheapest place in the world to visit is located right? In steps our resident traveler Drew Binsky to save the day!
"Asia in my opinion is the cheapest continent to travel, aside from a few countries, most notably Japan, you can pretty much travel cheaply anywhere in Asia", says Drew "Except for the flight, once you get there then the little stuff is cheap."
"The cheapest countries to visit in Asia are Vietnam, the Philippines, Thailand, Myanmar, Indonesia, all those Southeast Asian countries. I budget myself on 20 U.S. dollars a day, that includes food and accommodations and beer and taxis or whatever. It's like super cheap there, it's awesome."
But watch out because drew explains that even Asia can be expensive, "The most expensive country in Asia is Japan...I still recommend visiting, it's awesome but if you're on a budget I would stick to Southeast Asia first so you can save money...in Japan, just the taxi alone to get to the club is going to be like 20...and then you're going to get a beer which is probably 10 dollars...the clubs are awesome there but you just have to be careful...if you're going to go out to a club it's pretty expensive."
But he says Vietnam is here to come to the cheap traveler's rescue!
"In Vietnam a lot of people sit outside and just drink beers and they serve the beers for like 30 cents a beer and it's not bad, it's better than any average Bud Light or Coors Light or whatever you're going to drink in America…And then all your curry and rice dishes are also going to be under a dollar. Even if you go to a restaurant it's still going to be between 1 and 3 dollars, street food is obviously cheaper."
"If you're traveling on a budget go to Vietnam, you'll have yourself a great time."
If you want to check out more tips from Drew you can visit http://cw33.com/tag/travelfix/ or find out where he's at right now by adding him on Snapchat @drewbinsky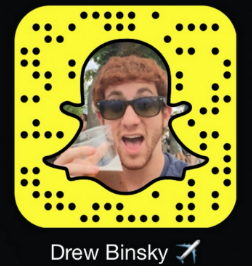 Happy traveling!