This is an archived article and the information in the article may be outdated. Please look at the time stamp on the story to see when it was last updated.
DALLAS — Traffic is at it's worst in over 30 years. That's not a big surprise, especially in the DFW.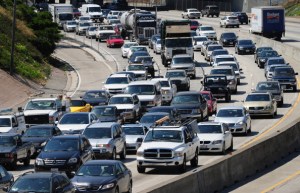 Numbers crunched by Texas A&M's Transportation Institute and data analysis firm Inrix, show commuters spend over 42 hours a year stuck in traffic — a whole work week!
Rosie Everson said, "When I'm on, I think they call it the 10. That freeway is crowded, I don't care what time of day you're in it or on it."
According to the numbers, 3.1 billion gallons of fuel are wasted as cars inch along American roads.
"Maybe more lanes to beltway 8 or the freeways, stuff like that, that would help a lot," according to Ezer Rasalvo.
It comes down to a cost of $160 billion to the economy, but on the positive side, according to researchers, traffic increases as the economy improves.
So, as you're stuck in traffic, remember it could be worse. At least you have a job to go to as you're sitting in a traffic jam.