This is an archived article and the information in the article may be outdated. Please look at the time stamp on the story to see when it was last updated.
ARLINGTON, TX —  You can run, but you can't hide. That's the warning from Arlington cops who just released terrifying surveillance video of a man kidnapping a woman at gunpoint, then forcing her into the trunk of her own car.
The video shows the woman pulling up to a Wells Fargo ATM in the 2000 block of North Collins Street on January 14.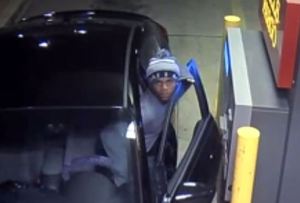 You can see the man walk up, point a gun in the woman's face, order her to withdraw cash, then puts her in the trunk. He looks right into the camera before driving off, giving us a clear look at his face.
The woman was able to escape unharmed in Euless where she ran to a convenience store and called police.
Before ditching the car, police believe the suspect committed another ATM robbery at that same Wells Fargo bank.
If you know anything about this case, call Arlington PD at 817-459-5739 or Crime Stoppers at 817-469-8477. You can remain anonymous and may be eligible for a reward of up to $1,000.
UPDATE: Cops Say Arlington ATM Robber, Kidnapper Caught in Georgia