This is an archived article and the information in the article may be outdated. Please look at the time stamp on the story to see when it was last updated.
[protected-iframe id="033e1d0f9e1839b428b48b3f5f445f82-66245013-47411866″ info="http://player.ooyala.com/iframe.js#pbid=9ae34776f76145da969becdeb205e6a5&ec=Jvd2wydzqWF9IBTcixkEN2RX8fGsoHm9″ width="770px" height="433px"]
NEW YORK CITY — Here's the stark naked truth, it looks like New York will soon crackdown on the naked women who pose for pictures in Times Square.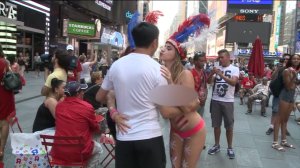 Yep, these ladies are only covered in paint. And they do it for money, like you'd expect from any painted lady on the street corner.
Mayor Bill de Blasio is talkin' the talk but not walkin' the walk, telling reporters that he's going to change things, but he didn't say how or when this would happen.
Also raising eyebrows are recent photos of New York cops posing with some of the bare-chested babes. NYPD Chief James O'Neill says the boys in blue could be spanked.
Buy hey, what about the Naked Cowboy? Will the crackdown apply to his briefs too? Hmm… we shall see.