This is an archived article and the information in the article may be outdated. Please look at the time stamp on the story to see when it was last updated.
Still trying to decide which of your photos to submit for Kim Dawson Model Search 2018? Maybe we can help you narrow it down!
Remember, you need two photos, one head & shoulders shot and one full body. Here's where you can find all Rules and Requirements for KDMS 2018.
Follow the tips and guidelines on the Kim Dawson Model Search 2018 page and you can't go wrong.
You may have several photos you're considering for KDMS 2018, but each has one or two things you wish were different. You have the power to make that happen — and it's all in your finger tip. Enhancing your photos is easy (and fun).
First off, let's be clear: You do NOT want to submit overly-manipulated photos! Remember, your Kim Dawson Model Search 2018 photos are all about showing the real you. This is no place for filters or stickers or anything else that distracts from the subject.
That's not to say you shouldn't take the opportunity to crop a little, adjust the brightness, or sharpen an image, right? And life is even sweeter when you can do all that on the go.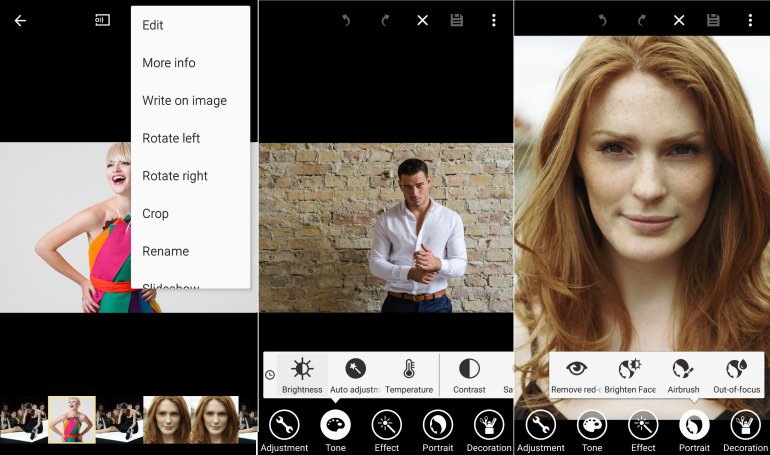 Smart phones have built-in tools that let you edit images on your phone. Everything from cropping and rotating to adjusting brightness, focus, and even unflattering yellowy light. If you've never done any photo editing with your current phone, pull up a photo and walk through each tool to get an idea of what each one does and how much control you have.
Hat tip to those who came before us and conquered  basic iPhoto so they could pass on easy tips for retouching photos.

There are also simple-to-use mobile apps with tools to take you beyond basic image editing. All of the apps we discuss here are FREE. You're welcome. 😉
SnapSeed for Android or iOS, Bonfire Photo Editor Pro for Android or iOS, and Picsart Photo Studio for Android or iOS are great apps used by millions who enjoy making collages and adding clip art/effects to images, but they can also be used as great photo editors when you want to correct or enhance a photo.
Shout out to King Edits for putting together a bare bones tutorial to walk users through the basics of each. (Demonstrated for Android users specifically, but the crossover for iOS users is easy.)
Adobe Photoshop Express for Android and iOS is a quick and easy photo editor with auto fixes (and filters,)
FaceTune for Android and  iOS is designed as a go-to selfie editor, great for touch ups, removing blemishes, dark circles, etc.
These are just a few. Plenty of blogs with great tutorials and tips on best practices; here's a good one for iPhoto users and here's a good one for the Androids.
Tons more, though, so scout around if you're looking for something extremely specific. Good luck!