This is an archived article and the information in the article may be outdated. Please look at the time stamp on the story to see when it was last updated.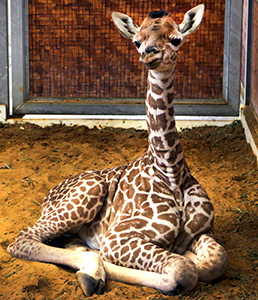 DALLAS – The name game is over at the Dallas Zoo. The new baby giraffe's name is… Kipenzi, which is Swahili for loved one.
And this tall baby girl is definitely loved. More than 50,000 people around the world voted on her new name.
The lovefest continues Friday night at 8 when Reunion Tower lights up the Dallas skyline with Kipenzi's name!
Awww… how sweet.
We've all been keeping tabs and swooning over her via Animal Planet's live-cam which began rolling before Katie even gave birth on April 10.
You can soon see her in person.  Kipenzi is preparing to make her public debut in the habitat for her first full day as soon as the rainy weather clears up — hopefully by early next week.
Come on, mother nature, get it together!