This is an archived article and the information in the article may be outdated. Please look at the time stamp on the story to see when it was last updated.
LOS ANGELES, CA- There's a saying that "everyone has a twin somewhere in the world."
Take Angelina Jolie for example: You wouldn't think the beautiful Hollywood actress would have a doppelganger, right? Well, turns out, she doesn't have to go across the globe to find her clone!
Meet Instagram model, Mara Teigen, discovered by the internet when she popped up on one of Kylie Jenners' pics. Now, everyone is calling her "Angelina Jolie 2.0."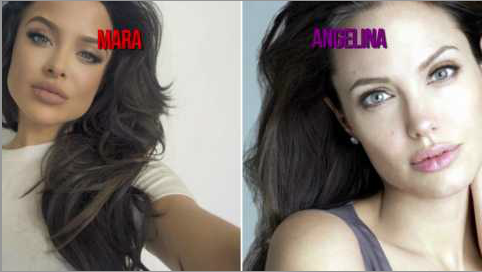 We're going to take a wild guess and say it's the lips!
As far as we can remember, the real Angelina has always had those natural kissers! Not too sure about this Mara chick. So, before we jump to conclusions, we went waaaay back in Mara's IG vault to see if she'd ever had lips like her bestie. You know … before the Kylie Lip Challenge and kits!
According to the American Society of Plastic Surgeons, selfies are the main reason more than 27,000 lip enhancements were done last year! On average, that's a pair of lips getting plumped every 19 minutes! At this point, we have to believe Kylie Jenner has something to do with that!
Real or fake, we have to give it to Miss Mara. She could pass for Angelina!